Knock It Off! Episodes
DIY Wine Glass Shelf and Storage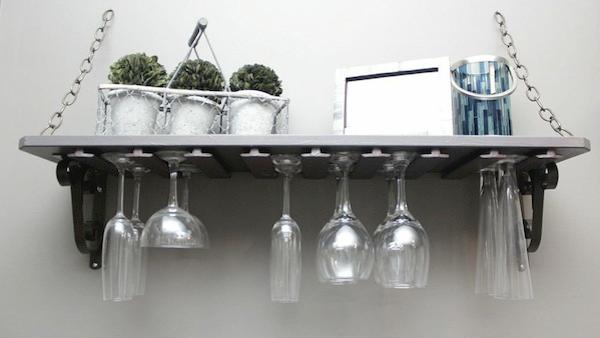 It's one thing to have storage for your precious wine collection, but what about the glasses for drinking that wine? Here's how to build stylish shelves that can serve as decor, but also hold lots and lots of wine glasses. It's beautiful and functional!
Materials:
one (1) pine 1x8x8 (this will give you two 4 foot shelves)
four (4) brackets
8 ft chain
paint or stain
two (2) 8 ft pieces of unfinished t-molding flooring threshold
nail gun
chop saw
1. Using the chop saw, cut the 1x8 in half so that you have two four foot pieces. 2. Measure the width of the board. It should be a little less than 8 inches wide. Use the chop saw to cut the threshold to that measurement minus 1 inch. This will allow the glass racks to be inset on the shelves. Cut six pieces per shelf. 3. Use a wine glass to determine the distance between two thresholds. Place the base of the glass on the shelf and make a mark a 1/2-inch outside the base on either side. Place the t-molding on the marks with the flat side facing up. Line the t-molding up on your marks and use a square to make sure the molding is level and straight. 4. Leave enough space on either end for the brackets and nail the t-molding in place along the center so that it goes directly through into the shelf. Make sure to place the nail into the center "t" part of the molding. Repeat with all of the pieces of the t-molding and then paint the molding to match the rest of the shelf. 5. Find the studs in the wall and attach the brackets to the wall, using a level to keep them aligned. Screw the shelves into the brackets.
6. To dress these shelves up a bit and give them more character, we used snips to cut 2 feet strips of chain. We attached the chain to the front edge of the shelf and about 1 foot above the shelf so that they looked like they were hanging by the chain. To attach them, we used a staple gun to shoot staples over the chain to hold them in place. Since the chain isn't actually holding the weight of the shelf, this worked perfectly! This is a great way to dress up plain jane pine and add some major functionality. Now go get a glass of wine and relax!