Knock It Off! Episodes
DIY Weathered Coffee Table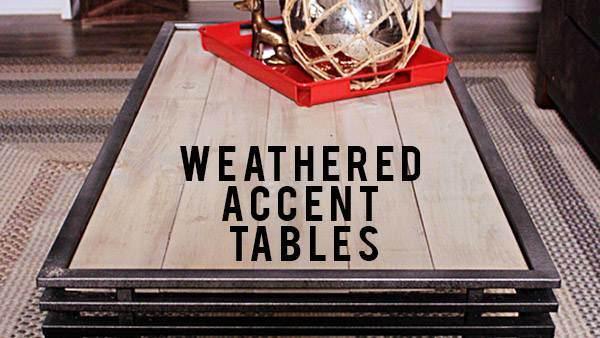 Transforming a glass top coffee table from dated to New England-esque is a simple as removing the glass and building a new planked top! Here's how you can do this easy DIY weathered table at home.
Materials Needed:
Glass top table
metallic spray paint
two (2) 1x6 pine at 8 feet long
one (1) 1x2 at 6 feet long stain
chop saw
paint brush or staining mitt
paper towels
nail gun
1. First, remove the glass top from the table base. Ours simply lifted out - score! 2. Spray paint the base using a metallic color. We just lightly misted ours with gold spray paint so that the wrought iron black was still visible. 3. Measure the length of the table, inside the frame. Also, measure the width. Our table was the perfect size for five 1x6 planks across, but if yours is not, you can rip the pine planks down to the appropriate size with a table saw, or purchasing a different size. 4. Using the chop saw, cut the planks to the appropriate length. Cut a two pieces of the 1x2 down so that it will span the width of all the planks, but won't be visible. These will act as a bracket to hold our table top planks together. 5.Using a clamp or a friend, hold the planks of wood firmly together and nail the 1x2 bracket into place on either end of the top. Make sure to use nails that are the right length - you don't want any to pop through the nice surface of your table! 6. Stain the top using your favorite stain. For that New England feel, we went with a pretty driftwood stain. Brush on a coat of matte water-based polyurethane to protect the surface from any water damage from cups, plates etc. that might be place on it.