Knock It Off! Episodes
DIY Upholstered Ottoman from Thrift Store Coffee Table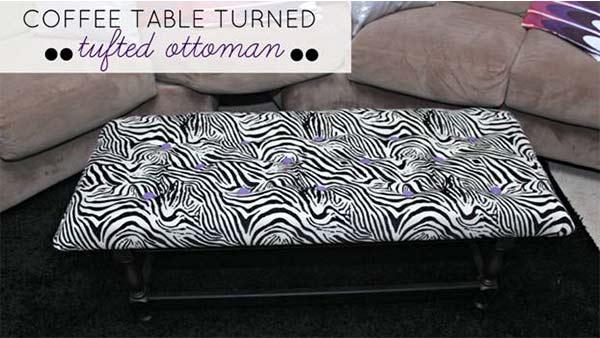 Want an expensive upholstered ottoman for your living room without the high price tag? Here's how to DIY it using an old thrift store coffee table. This entire easy DIY project costs less than $90.
For some reason, ottomans are one of those furniture pieces that are crazy expensive! But they don't have to be. Follow these steps to make your own for a fraction of the cost of a store-bought one! Here's what you'll need:
old coffee table
spray paint
2 inch foam - amount will vary based on size of your table
batting - amount will vary based on size of your table
fabric - amount will vary based on size of your table
spray adhesive
heavy-duty staple gun and staples
fabric-covered buttons
hot glue gun and glue sticks
1. Go to your local thrift store or hit up some yard sales to find an old coffee table that needs some love. Paint the legs and apron of your table with spray paint and allow to dry. 2. Meanwhile, cut the foam to approximately one inch less than the size of your table top. Believe it or not, an electric serrated knife works perfectly for this job! 3. Apply spray adhesive to the surface of the table top and lay the foam on top. Wrap the entire top with batting and staple it in place. Cut away any excess. Do the same thing with the fabric, making sure to pull it very tight as you work your way around the table. You'll have to flip the table upside down to staple everything in place. 4. To give the ottoman a tufted look, staple right down through the fabric, batting and foam into the table top at the place where you want the buttons to go. Then, hot glue fabric-covered buttons on top.