Knock It Off! Episodes
DIY Suspended Bunk Beds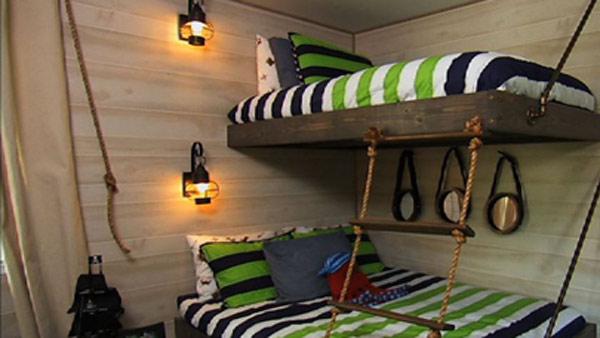 Bunk beds are a lot of fun for kids, but they're even more fun when you suspend them from the walls! These bunk beds are made to look like your child is sleeping on a pirate's ship.
Because we wanted these beds to look like bunks on a pirate ship, Monica and Jess went with a very simple design. The frame of the bed was a simple box that we made using pine boards. Once assembled the mattress rests inside the frame, with a little room all the way around for sheets and blankets to fit.
1. Make measurements and cut wood to size using a chop saw -- make sure you wear protective eyewear! You'll need four long boards and four shorter boards.
2. Screw the frame together using tough lag screws that are specifcally designed to hold a lot of weight. Insert wood slats across the bottom and screw into place, as well.
3. Stain or paint the bunk beds with your desired color and seal with a water-based polyurethane. Let dry. No pic
4. Since our bunk beds were being hung in a corner, we screwed the frames directly into the studs in the wall at the top of the bed and along the sides. Then, for the end that was left "floating," we used galvanized steel pipes that were screwed into the wall and then into the bed. Your local hardware store can cut the pipes to your desired length and help determine the fittings (flanges) you'll need to attach them to the wall and bed. Make sure you screw the pipe fittings into a stud so that it's nice and secure!
Building bunkbeds might seem like a daunting task, but using this simple design, it's definitely a doable weekend project!
If you want more information about this project or any of the other projects in this room, check out Jess and Monica's blog, East Coast Creative!