Knock It Off! Episodes
DIY Rustic Wooden Wedding Arbor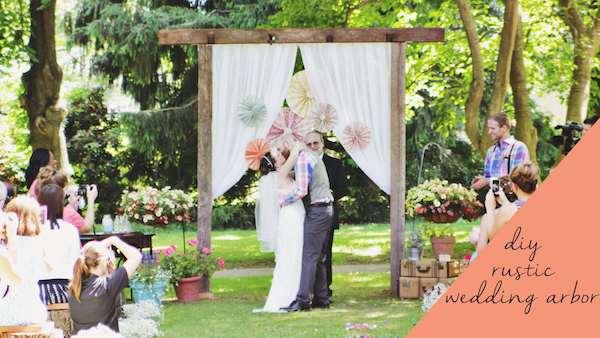 Every wedding ceremony deserves a gorgeous backdrop, and a backyard wedding is no exception! Building a simple, rustic arbor yourself isn't difficult at all with this easy DIY project.
Materials Needed:
(3) 10 foot barn beams (we got ours at an architectural salvage shop)
post digger
shovels
(2) "L" brackets
level
Optional: sheer curtains and handmade pinwheels
1. Determine the width and height of your desired arbor. We actually had two people stand in place to make our measurements- definitely not an exact science, but it worked! 2. Dig two holes where the upright beams will go, using a post digger and shovel. To ensure that the arbor is sturdy, we dug our hole 2 feet deep and about 1 foot wide. Measure the depth of each hole and make sure they are the same depth so that your beams will stand at the same height. 3. Grab some friends and lift the beam into the hole. Turn it so that it faces the way you want it to and then backfill the hole with the dirt you just shoveled out (I know! it just doesn't seem right.) Fill with the dirt then pat down with the shovel, fill again and repeat. Do this with both beams until they are securely placed in the ground. 4. Level both beams and make any necessary adjustments. Very carefully, lift the third beam up and place it squarely on the two upright beams, making sure that there is equal overhang on both sides. Level the cross beam and make adjustments. 5. Place an "L" bracket on the outside intersection of the horizontal cross beam and one upright. Screw the beams together. Do the same on the other side. 6. To dress up our simple arbor, we stapled sheer curtains to the back of the arbor, pleating them every couple of inches. We pulled the curtains back on either side and stapled them into place. Finally, we added a few handmade pinwheels hung with fishing line and our wedding arbor was done!