Knock It Off! Episodes
DIY Rustic Wedding Benches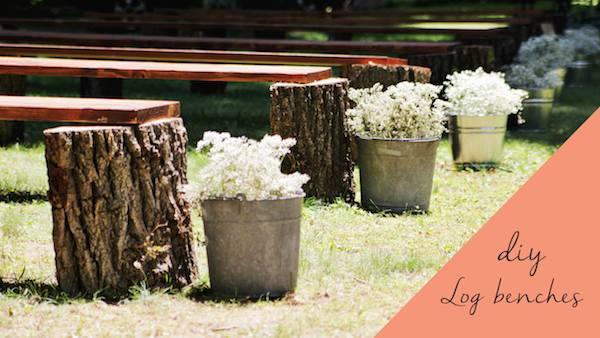 One hidden cost of a wedding, especially outdoors, is renting seating for the ceremony. Here's the perfect budget-saving solution: using tree trunks we found on the property and inexpensive pine to create some great rustic benches!
Materials needed:
fallen trees (if you don't have any on your property, try calling around to a few tree removal companies)
1x12x12 pine planks
chainsaw
tape measure
drill
stain
paint brush
paper towels
safety goggles
gloves
1. Cut the tree into 18 inch sections. Be sure to put on proper protective gear before using the chainsaw. After each tree trunk bases cut to size, use the chainsaw to level the top and bottom so that the bench doesn't wobble at all. 2. We decided to keep our pieces of pine 12 feet long, but you could always use a chop saw to cut it shorter for your purposes. Stain or paint them any color you'd like. We went with a medium wood tone to match the double doors we brought into the back of the ceremony site. 3. Position the trunk bases where you'd like your benches to be. Lay the pine on top. For a 12 foot long bench, we used three trunk bases evenly spaced at either end and one in the middle for added stability. We didn't need any guests to fall flat on their rear ends! 4. Screw the pine into the tops of the tree trunk bases. We sealed the bench tops with fast-drying water-based polyurethane to make them last a long time. Other than sitting on the floor, we couldn't think of any other seating that would cost as little as these benches- not to mention, they fit in perfectly with our rustic ceremony style!