Knock It Off! Episodes
DIY Photo Booth Backdrop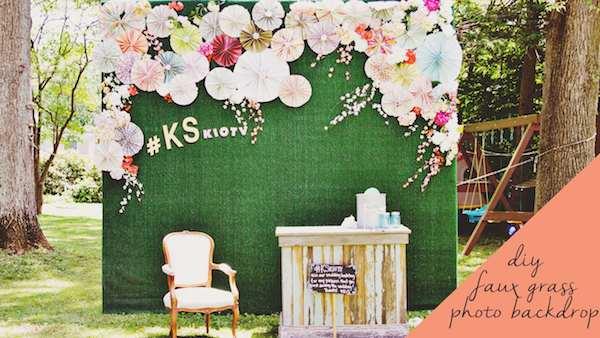 You just can't have a wedding without a photo booth: it really is the most popular element at weddings right now! Here's how to construct a great backdrop for your photo booth to make a stunning photo op for the bride and groom and their guests.
Materials Needed:
two (2) 4x8 plywood sheets
six (6) 2x4's at 8 feet
nail gun
turf
staple gun
pinwheels and fake flowers
1. Begin by framing out a "wall" with the 2x4's. Nail the 2x4's together to create a large box, which should measure 8 feet x 8 feet. Place support beams or "studs" approximately 16-20 inches apart and nail into the top and bottom of the frame. Place a cross beam or stud in that runs horizontally at the midpoint between the bottom and top 2x4's and nail into place. 2. Lay the frame flat on the ground and attach the plywood to the frame with a nail gun. Trim any overlap with a circular saw. 3. Roll the turf out over the surface of the plywood, and just like with upholstery, wrap the turf around the frame, pull tight, and staple into place. Continue all the way around the frame until the entire surface of the plywood is covered. 4. To get the "wall" to stand upright, place a 2x4 inside the backside of the frame at the bottom and nail into the upright 2x4. The 2x4 should straight out the back and rest on the ground. Place another 2x4 at an angle coming off the back of the wall. Screw into the upright 2x4 and then into the 2x4 coming out the bottom of the wall. Repeat this same process for the other side. Throw a few sand bags onto the 2x4s you just attached for extra weight. 5. Now it's time to decorate! We attached a lot of handmade pinwheels in various sizes around the top of the wall with a staple gun. Then we added fake flowers so that it looked like they were cascading down the backdrop. For a fun touch, we nailed the weddings hashtag to the wall so that the guests knew how to tag their photos. Don't forget to include fun props for your guests to pose with! This wall was a major focus of the reception site. It added lots of color and was a great place for the guests to be goofy and have fun!