Knock It Off! Episodes
DIY Painted Striped Subfloor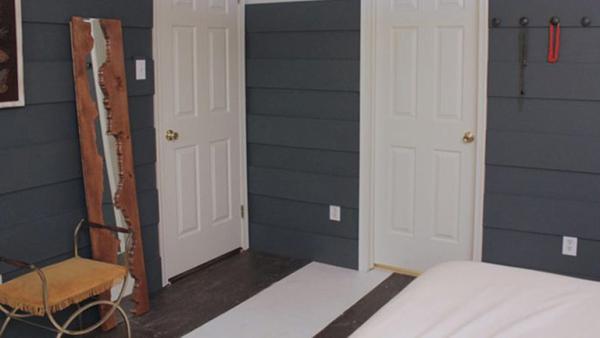 If you've got nothing but subfloor under that beat up carpet, don't fret. With some porch paint, you can turn it into a designer's dream with bold stripes and a high-end feel.
Most people would never think that refinishing a subfloor could ever look good, but we proved them wrong with this money-saving project! There are many steps to prepare the floor for the paint, but all that elbow grease is well worth it- especially when the entire thing only costs $60. Materials Needed:
Box cutter
trash bags
pliers
wood putty
orbital sander
porch paint in two different colors
rollers and brushes
1. First, cut the carpet and padding into strips with a box cutter. Roll up the carpet to dispose of it, and throw the padding into a trash bag. Try and get every little bit of padding up that you can. 2. This next step is a bit time-consuming, but fairly easy. Remove all of the staples with a pair of pliers. It's really important to get every last one - you don't want to step on an exposed staple in the middle of the night! 3. Sweep, sweep and sweep some more! Try and get the floor as clean as you possibly can. Using wood putty, fill in any dents, nail holes and seams between the plywood sheets. Scrape the putty on, and smooth it out with a spackle knife. Once it has dried, sand it smooth with sanding block. Sweep again! 4. Paint the floor with the base color. Make sure you use porch paint for the most durable, long-lasting floor! We had to do two coats, letting it dry in between each coat. 5. Determine how many stripes you'd like, make some measurements and run a chalk line across. Lay the painters tape down on the chalk line, smoothing the edges as you go. Make sure to remember to place the tape on the right side of the chalk depending on which stripe you're working on- you want them all to be evenly spaced! 6. Roll on the second color for the stripes and let dry. Do as many coats as necessary. Remove the tape to reveal nice clean, crisp lines! This project is not for the faint of heart, but it's totally worth all the hard work for the amount of money it saves you. Plus, it's unbelievably cool! For more details on this project or other projects from this episode, visit Monica and Jess' blog
East Coast Creative.