Knock It Off! Episodes
DIY Painted Striped Curtains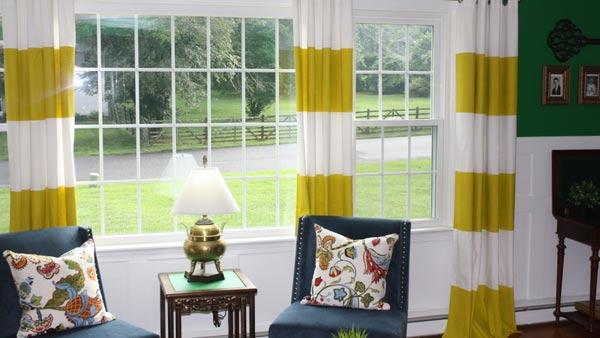 Dress up your space with a high-end look by making your own striped curtains with this easy DIY home decorating project.
Drapes make a huge difference in the way a room looks, especially when you're going for a polished feel. Unfortunately, they can be quite pricey. But if you're willing to put in a little work, you can make fabulous, custom curtain panels on the cheap. Here's how: 1. Purchase inexpensive, plain panels from a big box store. You can also use drop cloths if you'd like a more rustic look. Iron them to remove the wrinkles. 2. Decide on how many stripes you'd like per panel. Jess and Monica recommend choosing an odd number of stripes, as they think it's more pleasing to the eye. Break out your calculator and measuring tape to help you determine how wide to make your stripes. 3. Once you determine the desired width of your stripes, mark the panels with a pencil across the entire width. Remember to factor in the width of the painters tape, if you want evenly spaced stripes. Follow your marks with painters tape. To create a tight seal and prevent bleeding, make sure to run a credit card over the edges of the painters tape. 4. Using a small paint or foam brush, go over the edges with decoupage glue or regular watered down craft glue, This creates a strong barrier so that paint doesn't bleed under the tape. Let dry. 5. Mix your paint with fabric medium, following the instructions on the bottle. This awesome stuff allows you to use any kind of paint (we used regular latex wall paint) on fabric so that it's not stiff and so that its washable. 6. Roll your paint onto the panels with a roller. For the best coverage, hold your panel up against the light to see what needs additional paint. Plan on doing several light coats. Let dry. 7. Remove the tape and hang them up! Stripes are so classic, so these curtains will be in style for a long time, but you can make them totally yours by painting them a fun color, like we did. If you want more information about this project or any of the other projects in this room, check out Jess and Monica's blog,
East Coast Creative.