Knock It Off! Episodes
DIY Painted Piano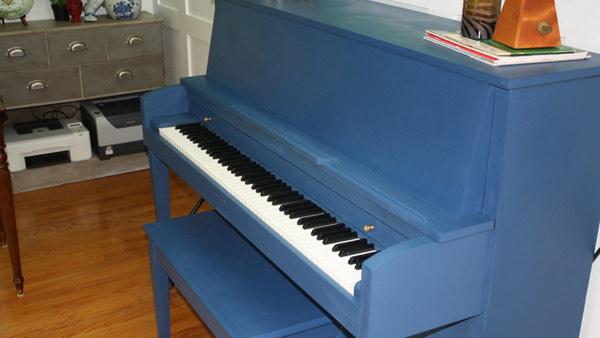 This piano has a beautiful sound, but the high-gloss black color doesn't match the room's new look. Instead, it gets a new look with bright blue chalkboard paint.
Painting a piano might sound a little outside-the-box,, but a little paint can take your piano from just an instrument to a major focal point in a flash!. 1. The key to painting a piano is good preparation. You want to make sure you've wiped all dust and debris off the surface, and use a high quality painter's tape to tape off the keys, pedals, and any area that you won't be painting. 2. We recommend using chalk paint for your piano because it doesn't require any sanding or prep work and will adhere even to a glossy surface without chipping. Apply one or two even coats, allowing for drying time in between. 3. Once your paint has dried, seal it with a few coats of wax. This will lock in the paint and make it water resistant. Apply the wax in a circular motion to get a smooth finish. After a few days of curing, you'll have yourself a beautiful, one-of-a-kind piano! If you want more information about this project or any of the other projects in this room, check out Jess and Monica's blog,
East Coast Creative.