Knock It Off! Episodes
DIY Inexpensive Faux Crown Molding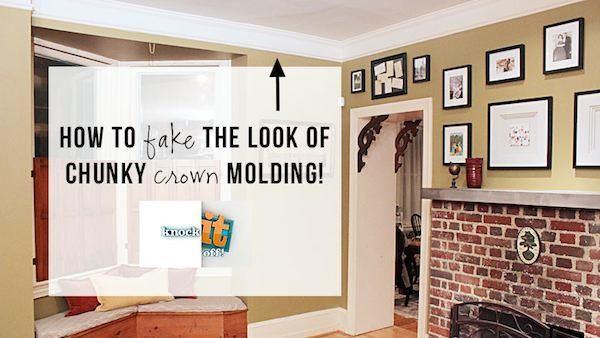 Thick, classic crown molding found in old homes is really beautiful, but often very pricey to replicate. We used a little trick in this room that fools the eye with two pieces of thin molding and a strip of paint.
You'll Need:
nough crown and OG molding to run the length of all your walls, plus some for mistakes
nail gun
paint
chop or mitre saw
1. Cut and install the crown molding like you normally would. Check online for easy tutorials on how to do this. Just remember: turn the molding upside down and cut it at a 45 degree angle! 2. Here's where our little "trick" comes into play. Cut the OG molding at the same length as the crown molding, making sure to mitre the edges so they meet flush in the corners. Install the OG molding six inches below the crown molding, leaving the wall exposed between the two moldings. 3. Paint both the molding and the wall the same color. We used classic white trim paint. When you step back, the eye thinks that the molding is all one piece, but really it's just painted wall and regular molding! Awesome! There's always a way to get that high-end look without dishing out serious cash. This project is one of our favorites to date!