Knock It Off! Episodes
DIY Home Concession Stand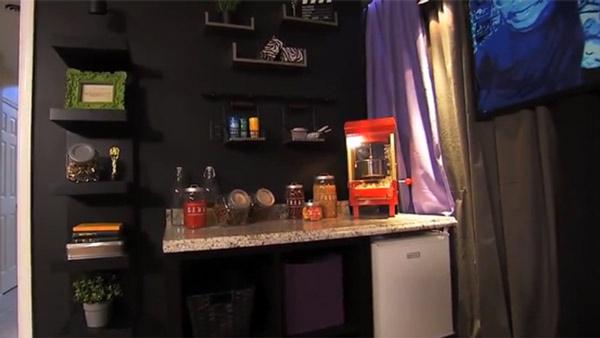 No movie theater would be complete without popcorn and candy. Here's how to create your own DIY concession stand at home, complete with a popcorn maker, a mini fridge and more!
Want to be the house where everyone wants to hang out at? Our simple snack station will make your home the place to be and create a fun movie-theater vibe complete with popcorn, snacks and candy. To create this project, we used a few inexpensive store bought items and combined them to make a fun snack station reminiscent of a movie theatre concession stand. Here's what you'll need:
4 square cube unit
baskets to fit cube unit
pre-fab laminate counter slab
mini fridge
screws
some scrap wood
power drill
Directions: 1. Assemble your cube unit and rest the laminate counter on top. Determine the height that your counter will be and then drill a scrap piece of 2x4 into the wall so the counter can rest on both the cube unit on one side and the 2x4 on the other. 2. Drill up through the cube unit into the counter to secure it. 3. Place your mini fridge underneath. If your mini fridge isn't tall enough, like ours was, you may want to build a simple box out of more scrap wood and paint it the same color as your cube unit. 4. Fill your baskets with snacks and supplies. Add a popcorn maker, etched glass jars and more to create a delicious corner to your home movie theater.