Knock It Off! Episodes
DIY Garden Wall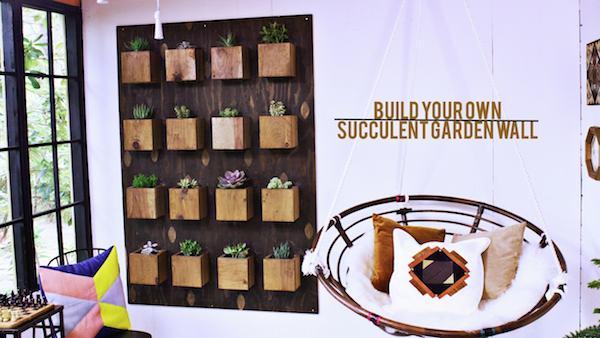 Garden walls are very on-trend right now, but if you want to purchase one, you'll have to shell out some serious cash! Not so with this easy DIY project made with wood and stained with natural materials.
Materials Needed:
one (1) 4x8 plywood
1x6's (quantity depends on how large your cube planters will be)
steel wool
apple cider vinegar
nail gun
drill
tape measure
chop saw
level
pencil
1. The first step is making the cubes out of the 1x6's, which is actually very easy. Cut the wood down to size. You'll need four identical pieces for the sides, and one slightly smaller piece for the bottom of each planter cube. 2. Assemble the cubes by first making an "L" shape with two of the pieces and nailing together with the nail gun. Then, add the other two sides to create a cube, nailing them all into place. Finally, add the bottom piece. Repeat that process for as many cubes as you need for the garden wall. 3. Drill two or three holes in the bottom of each planter cube for proper drainage for your plants. Set aside. 4. Cut the plywood to size using a circular saw. Our garden wall was really large, so we trimmed two inches off of one end so our finished size was 4 feet by 6 feet. 5. We tried our hand at making our own natural stains to keep things as organic and environmentally friendly as we could. Pour the apple cider vinegar in a small tray or bowl and place the steel wool in the vinegar. Let sit for 30 minutes or so before using. You'll notice that the vinegar will take on a rust color as the steel wool sits. Rub the steel wool on wood in the direction of the grain on the cubes, and wipe away with paper towels. Each type of wood will take the natural stain in a different way, so don't expect perfectly uniform results. Do the same process on the plywood, as well. Let dry. 6. Now it's time to put your garden wall together! Evenly space your planters both horizontally and vertically to create a grid pattern using a measuring tape and a level. Screw each cube into the plywood through the back of the cube. 7. Place stones into the bottom of each cube, then fill with soil. Plant a variety of succulents into each cube and you're ready to hang! Grab a friend and be sure to screw this garden wall into studs because it's sure to be very heavy! This garden wall is bound to be a conversation starter in any room! Have fun building one of your own!