Knock It Off! Episodes
DIY Floating Door Tables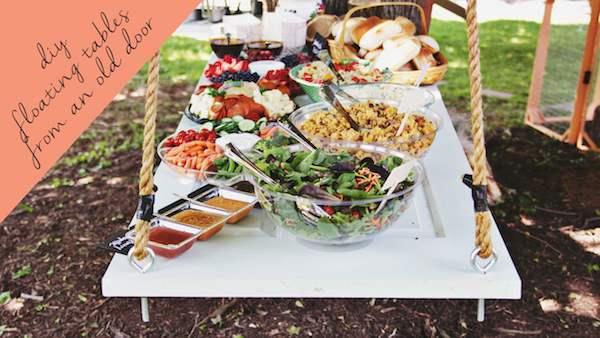 Instead of using regular folding tables for this backyard wedding, use a few large trees and some old doors to create an interesting backdrop for your delicious food.
Materials Needed:
old doors (we used hollow core doors, but you could use antique or salvaged doors, as well)
large eye bolts
Four (4) "L" brackets
heavy rope
level
drill
1. Position the door under a strong branch - one end of the door will hang from that branch! Determine the height you'd like the table to be and make a mark on the tree. Most dining tables are around 30 inches high so we went with that. Make sure to take into account the ground around the tree and make adjustments. Pre-drill holes for the "L" brackets based on those heights, using a level to make sure your table will hang flat. 2. Drill a pilot hole for the large eye bolts in both corners at one end of the door. Thread the eye bolts through the door and use a washer and nut to tighten into place. 3. Hang the "L" brackets onto the tree and drill the top of the bracket into the underside of the tables. The tables should be as flush to the tree as possible. 4. Pull one end of the rope through one eye bolt and tie a very tight knot. Loop the free end of the rope over the branch and down to the other bolt. Place the level on the table before tying the knot and make any necessary adjustments. Tie the second knot. We loved the way these old doors were transformed into super cool hanging tables! Adding the brackets to the tree gave a lot of stability while still giving the impression that the table was hanging.