Knock It Off! Episodes
DIY Faux Plaster Wall Treatment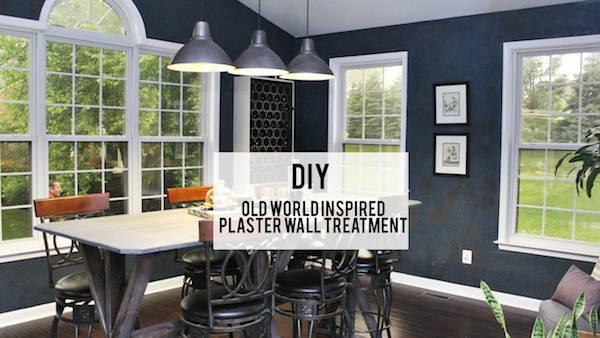 Here's how to turn builder-basic walls into old world chic with a weathered crumbled stone effect like you see in wine cellars, without breaking the bank!
We found a way to get this look just by using a really cool metallic plaster from Modern Masters in three different colors. It took a while to figure out our method, but that's good news for you, because we've done all the hard work! Materials:
Modern Masters Metallic Plaster in three complementary colors
pointed trowels
spackle pan
paint rollers
paint tray
paint brush
drill will mixer attachment
1. Mix the plaster paint thoroughly before using. We used a mixer attachment for a drill to ensure this was done well! 2.The key to this particular look is random layers of the colors, however, we first rolled on a base coat of the navy blue as a starting point. This paint is so cool because it rolls on well, but has a lot of natural texture to it! 3. We worked in small sections so that our navy blue plaster didn't have time to dry- we decided we preferred the look of the colors blending together. We put all three colors of plaster on one trowel and randomly swiped the paint onto the wall with another trowel, making sure to blend the colors together in some areas. To add extra texture, we gently patted some of the plaster with the flat side of the trowel and wiped other areas flat. This added a lot of cool dimension. If you mess up, just paint over it with your base coat and start again! 4. We used this method for all of the walls as we moved around the room. Let it dry and you're done! We're pretty sure you'll feel as if you were transported to your favorite winery!