Knock It Off! Episodes
DIY Faux Ceiling Beams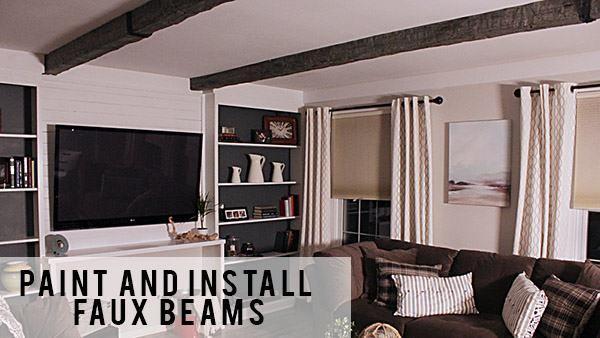 Installing beams into a room immediately gives a space character and warmth, but using real wood is very pricey and requires a lot of heavy lifting. These styrofoam faux beams create the same atmosphere without the cost or the bulk and look just like the real thing!
We purchased faux beams online (just search for faux beams), tweaked them a bit to fit the style of the room and installed them ourselves without breaking a sweat! Materials Needed:
faux beams
paint
paint brushes
antique glaze
paper towels
chalk line
measuring tape
2x4 blocks cut to fit the inner space of your beam
nail gun
1. Lay a dropcloth on the ground and set two sawhorses on top. Place the beam on top for easy accessiblity for painting/glazing. Lightly brush on the paint - we went with gray since it matched our color scheme, but you could do whatever! These beams can also be stained to look like real wood. 2. To add some depth, we very lightly brushed on antique glaze in a mocha color and wiped it into all the grooves and cracks. Let dry. 3. Decide the placement of your faux beams. Measure and mark on the ceiling the centers of each faux ceiling beam. Snap a chalk line from mark to mark. This will give you a line to place your supports on from one side of the ceiling to the other. 4. Attach one 2x4 block for every 4 ft of beam to the ceiling by screwing them in so that the center chalk line runs right through the middle of the block. You do not need to hit a stud to hold these beams up because they are so light! 5. Measure and cut your faux beams to length. Put the beam over your blocks and screw each side of the beam into the blocks with 2 inch long screws. 6. Cover the seams with the straps that are included. Cut them and wrap them around the beam and nail into place using a nail gun. Color over the nail heads with a black sharpie to camouflage them. Installing beams never was easier! And just think, you didn't have to lift 600 pounds in the process!