Knock It Off! Episodes
DIY Elegant Mirrored Coffee Table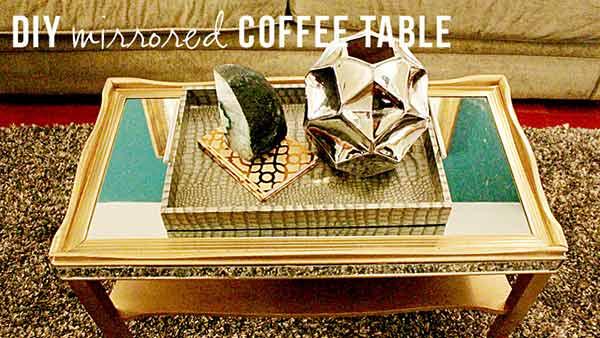 Mirrored tables and furniture are super trendy right now, but they can cost a pretty penny. Here's a perfect project to replicate the look with a simple mirror, a thrift store coffee table and some spray paint, all for under $45.
Materials Needed:
thrifted coffee table
gold spray paint
dorm-style mirror
Glass cutter
wood dowel
mirror adhesive
Straight edge
1. Lightly sand the coffee table to remove imperfections and sheen. Spray the table with gold spray paint and let dry. Several light, even coats are the way to go here! 2. Measure the length and width of the table top. Our table had a lip all the way around, so we measured inside the lip so that our mirror would be inset on the table top. 3. Place the mirror on a flat service, with cardboard underneath. Make measurements on the mirror with a marker. Lay the straight edge on your marks on the mirror. Run the glass cutter along the straight edge. Make sure to read the instructions on the glass cutter- directions may vary! Do this again, being sure to stay on the line- you don't want any cracks! This will "score" the mirror. 4. Gently lift the mirror and place the wood dowel on one side of the scored line. Gently press down on the line opposite of the dowel. The mirror should break cleanly with just a little pressure. Repeat the same process for other pieces of mirror- we added mirror to the sides of our table, too! 5. Run a few lines of mirror adhesive on the top of the table and lay the mirror down flat on the table with firm pressure. Let dry thoroughly. That's it! Easy, glam style that will be sure to impress. Don't limit yourself to just coffee tables, though. Dressers, night stands, armoires - they're just waiting to be gorgeous mirrored pieces!