Knock It Off! Episodes
DIY Cedar Shingle Accent Wall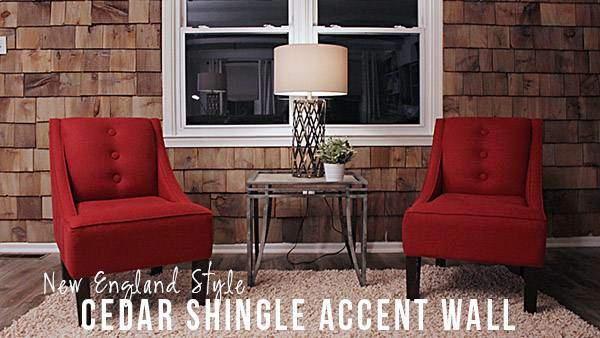 Most people would never think to bring shingles indoors, but this accent wall project is perfect for adding New England charm to a room and is really inexpensive!
Materials Needed:
cedar shingle bundles
nails
nail gun
driftwood stain (optional)
measuring tape
level
utility knife
1. Begin by laying the shingles out on the floor. Shingles vary in color and this allows you to pick and choose which shades will work well next to each other. 2. Working up from the bottom, line the first shingle up so that the bottom hits the baseboard molding. Use the level to make sure it is nice and level. Nail into place with the nail gun. Continue on with the first row until you've covered the entire portion of the bottom of the wall. If you need to cut any shingles to make them fit, just use the utility knife to score the shingle and break it cleanly on that line. 3. Measure six inches up from the bottom of the shingle and align the next row of shingles. This row should overlap the one below it. Use the level to line it up correctly. Nail into place and continue all the way across the wall and then on up. 4. The original color of the shingles didn't work with our color scheme, so we toned them down with a driftwood stain. Just brush it on, let it sit a minute or two and then wipe off with a paper towel. This extremely easy project added just the right New England charm to this room makeover!