Knock It Off! Episodes
DIY Card Catalog Cabinet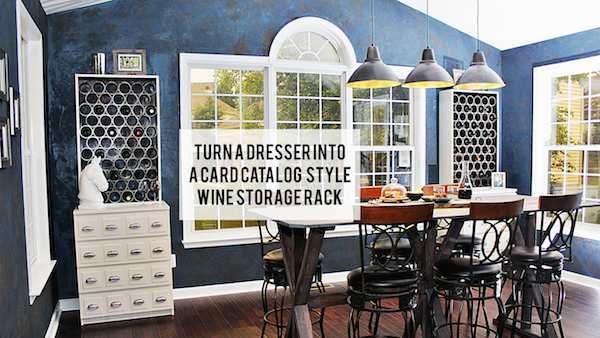 Cool vintage card catalogs are one of those pieces of furniture that are hard to come by. They're either really expensive or are on lockdown by their original owners. No problem! Here's how to knock off these vintage pieces with some brand new dressers, paint, cool hardware and luan!
Materials:
one (1) 4x8 sheet of luan
finishing nails
nail gun
dresser with flat-front drawers
circular saw
chop saw
paint
paint brush
foam rollers
hardware
1. Paint the entire dresser, included the drawer fronts with your desired color. Because our dressers were very glossy, we brushed on a primer first. 2. Cut luan into 12 uniform squares. Ours were about 4 inches x 4 inches big. Each drawer had four luan squares. Sand any rough edges and paint. 3. Center the square on the drawers, measure an even distance between each luan square and mark with a pencil. Line up the squares on your marks and nail into place with finish nails. Use a level to make sure they are aligned correctly. Touch up any paint that may have been scratched while attaching the luan. 4. Drill two pilot holes at the appropriate distance apart (check your hardware for the distance between holes) in the center of each luan square. Screw the new hardware into place. This is seriously one of our favorite projects ever. It's easy to build, and the finished product is one killer knock off!