Knock It Off! Episodes
70s Basement to Swanky Man Cave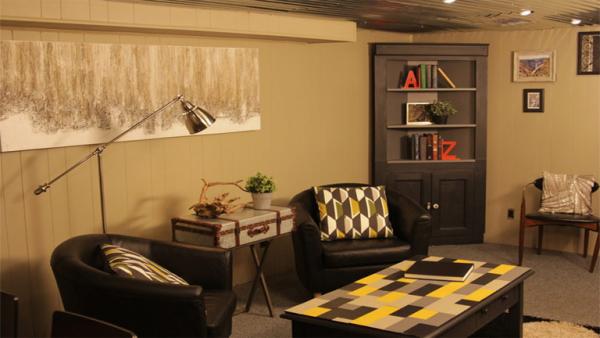 Designers Monica and Jess transform this retro 70s basement with dark wood paneling and ugly tiled drop ceiling into a swanky, sophisticated "man cave" that both husband and wife will enjoy being in, all for under $900.
The gloomy wood paneling and dated drop ceiling makes Chris and Katy's basement feel more like a cave than the 'man cave' they'd like it to be.
"This is my grandparent's house, so this is I guess where my grandparents hung out with their friends in the 70s," says Chris.
Since Chris mostly spends time there now, the couple wants this space to have a masculine 'man cave' feel, but one that's woman-friendly too. But with just $800 to $900, can Monica and Jess help these homeowners recreate the high-end looks they love?
Monica and Jess come up with a plan to create a fun, sophisticated room on the couple's small budget. They note that the room's grey carpet is in good shape and a nice neutral color that will be easy to work with. In addition, many of the pieces of furniture already in the room can be tweaked to fit in better. They love the retro orange booth along the wall and plan to build a new table in front of it for dining and entertaining. The bloggers want to replace Chris and Katy's vintage orange couch with a couple of club chairs, move the TV and create a bar space in the corner. With a stone exterior and a granite-look-alike countertop, the bar will be small, but classy.
To transform the dated dark-wood paneling, Monica and Jess plan to repaint the walls, which saves money over taking down the paneling and replacing it with drywall. The couple's inspiration photos included a tin-ceiling, which is out of their price range, but the designers hope they can match the industrial, masculine feel with a metal ceiling to replace the tile one currently in the basement. To give the basement a more spacious feel, Monica and Jess hope to take out the drop ceiling and replace the florescent lights with new lighting.
Chris and Katy are excited about Monica and Jess' plan.
"It's going to be kind of weird to go down there and have it actually look like a room instead of my grandparent's basement," says Chris. "I'm interested to see what it all looks like when it's all said and done."
First up, Jess and Katy get to work creating a side table for the room out of an old trunk, purchased at a thrift store, and an old TV tray table Jess snagged from her mom's garage.
"Pieces like this end table are very custom. You can't just find them anywhere. You might find them at a high-end boutique, but then you're looking at paying lots of money, " said Jess.
Meanwhile, Monica and Chris take a look at the basement's drop ceiling to see if they can raise it to make the room feel bigger. To do it, they have to make sure the ceiling isn't hiding any plumbing or electrical fixtures that can't be moved. Unfortunately, once the look under the tiles, they discover that the joists are so close to the current ceiling that it's not possible to move the ceiling up. However, it does mean they can work off of the current ceiling frame to put in their new, metal panels. Monica and Chris take out all the tiles and paint the rooms dark paneling a grey-beige color for this swanky man-cave because it's sophisticated, yet not too dark.
Jess and Katy start building a table to go in front of the orange bench seat already in the room. They use black steel piping and a glass top they found in the trash.
"Don't judge us," says Jess. "That means it's free."
They screw the piping together and add the glass to the top to create a space for eating and playing games.
Monica and Chris start working on updating the couple's flourescent lighting and replacing them with pre-wired LED lighting kits. They replace the current florescent lights with outlets that the LED lights will then plug in to.
Next up, homeowner and host, Jess and Katy, tackle building a faux-stone bar.The bar in the couple's inspiration photos could cost over $1,000, but Jess and Monica chose an inexpensive faux stone that's light and easy to cut with a hand saw, but still looks authentic. In about an hour, they cover the bar's face with the stone material, and then add a laminate countertop that looks like granite, giving the illusion of a high-end stone bar.
To stay under budget, Jess and Monica begin repurposing old furniture pieces by giving them easy carpentry upgrades.
Monica and the homeowners begin installing the corrugated metal sheeting, typically used for the roofs of sheds or other outdoor buildings, as an inexpensive alternative to tin tiles for the ceiling. The crew installs the sheets by drilling them into the existing ceiling frame, using a grinder to cut them down to size.
Jess and Chris begin making some simple DIY art work to brighten up the space using various colors of nail polish onto blank canvases lined with painter's tape.
Monica and Katy hang the flat screen TV on the basement wall and to dress it up for less, they framed it with chunky molding to resemble a floating picture frame.
After adding some finishing touches, Jess and Monica reveal the new basement to these excited homeowners, who are thrilled with the transformation.
"It's amazing," says Katy. "It's like the old basement never existed."
"But there's no way this was all under $900," says Chris.
The basement's new sleek, corrugated metal ceiilng cost $160. The bar's new stone face, faux-granite countertop and all the accesories cost just $150. The updates to the couple's furniture, plus a few new pieces, cost about $400. The room's decorative accessories were another $182. The grand total for the entire space is $892.
"That is crazy," says Katy. "That is incredible. I cannot believe it."
"I'm totally going to spend a lot of time down here now," says Chris.