Knock It Off! Episodes
DIY Nightstands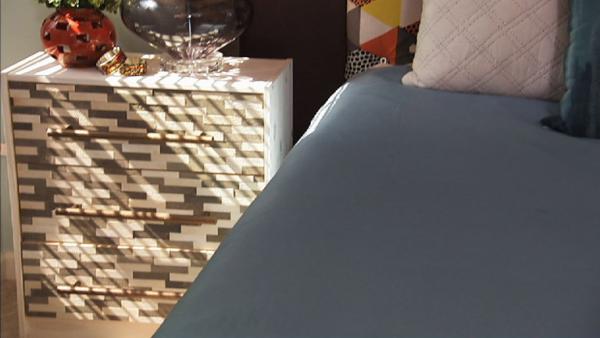 You can turn cheap nightstands into high end with these easy DIY tips!
If you're willing to do it yourself, you can transform basic dressers into nightstands with high-end style! These nightstands have the look of expensive tile, but really they have been fancied up some inexpensive wood!
1. Purchase inexpensive wooden dressers- we got ours for only $30 from an assemble-it-yourself store.
2. Use a chop saw to cut 1x3 planks into thin, ½" slices. These will become your faux tiles. You're going to need a lot- so set aside some time and cut away!
3. After you've cut all your tiles, paint them in varying shades. We whitewashed with white, light grey, and dark grey, but you could do any colors you like!
4. Using wood glue, attach your tiles to the front of each drawer- stagger each row, so it has a random look to it.
5. While those dry, paint the frame of your nightstands white. When everything is dry, put your drawers back in, add some hardware, and you've got yourself some seriously styling, high-end-looking nightstands at a great price!
If you want more information about this project or any of the other projects in this room, check out Jess and Monica's blog, East Coast Creative!