Knock It Off! Episodes
DIY Multi-layered Headboard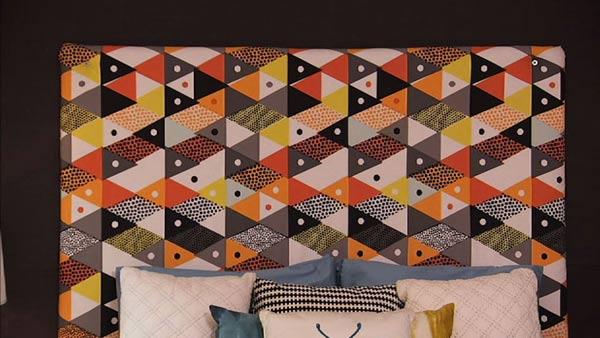 A headboard for your bedroom can get really expensive. But you can easily build your own. Get DIY tips for building your own headboard for under $100!
Upholstered headboards are classy and beautiful, but often come with an outrageous price tag! Monica and Jess found a way to create an upholstered headboard using some unusual materials that kept it below budget! We wanted to add some drama so we did a double-layer headboard, but we'll just explain how we did the smaller headboard.
You'll need:
foam core insulation
spray adhesive
egg crate foam
carpet padding
stylish fabric
staple gun and staples
1. Decide on the dimensions of your headboard and gather your materials. We could have purchased plywood, foam and batting, but those items would have cost us too much, so we decided to use foam insulation panels and carpet batting from the home improvement store! You'll also need fabric of your choice.
2. Cut the insulation panels using a utility knife to the size that you want. Do the same with the egg crate foam and carpet padding, but allow for a few extra inches so that it can easily wrap around the insulation board.
3. Lay the insulation board onto the egg crate foam. Beginning at one corner, fold the foam in towards the center of the board and staple into place using a heavy duty staple gun. Continue wrapping, pulling tight, and stapling as you work your way around the board. Repeat with carpet padding.
4. Lay the wrapped insulation board squarely on top of your fabric, making sure that the pattern is aligned correctly. Use the same method as with the batting and staple fabric all the way around the board. About half-way through, lift the board up to make sure your fabric is still aligned correctly. Make any necessary adjustments and continue.
5. Determine the height of the headboard on the wall level it and then screw it directly into the wall at the corners. For extra security, be sure to screw into studs.