Recipes
Deviled Cucumber Cups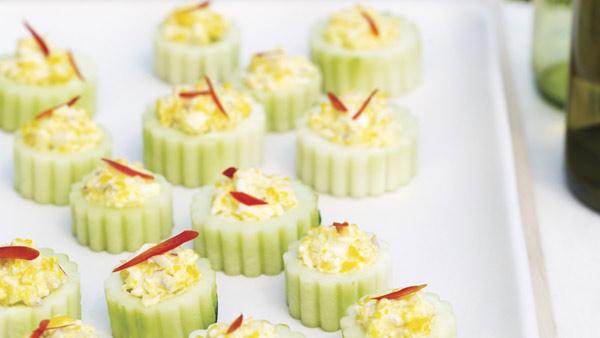 Servings: MAKES 24 cucumber cups, or 8 servings
Difficulty: Easy
Time:
Provided by: Margo True
3 large eggs
Ice cubes
4 cucumbers, each at least 7 inches long
21/2 tablespoons Green Chile Mayonnaise
21/2 tablespoons minced red onion, rinsed
About 1 teaspoon freshly squeezed lemon juice
1/2 teaspoon fine sea salt, plus more to finish
1 to 2 red or green serrano chiles, seeded and slivered, for garnish
Directions
1. Put the eggs in a small saucepan and fill with water to cover by 1 inch. Bring to a boil; immediately reduce the heat to a simmer and cook, uncovered, 10 minutes. With a slotted spoon, transfer the eggs to a bowl of water and ice cubes and let cool for 1 minute, then crack all over and put back in the ice water for 5 minutes to help loosen the shells. Lift the eggs out of the water, peel, and pat dry.
2. Meanwhile, cut the cucumbers crosswise into 24 rounds, each 3/4 inch thick (you will have some cucumber left over). For fluted edges, cut out fluted rounds, using a biscuit cutter in the size that works best (see headnote). Using a melon baller or small spoon, scoop the seeds from the center of each cucumber round, leaving at least a 1/4-inch-thick layer of cucumber on the bottom and sides. Set the rounds on a baking sheet.
3. Shred the eggs with a razor-sharp grater (such as a Microplane) or against the finest slatted holes of a box grater, and put in a bowl. Add the mayonnaise, onion, lemon juice, and salt. Mash the mixture together with a fork.
4. Fill the cucumber cups with the egg mixture, mounding it slightly. Sprinkle each filled cup with salt and a few drops of lemon juice. Top each with a sliver of serrano.
* Make ahead You can make both the filling and the cucumber cups up to 1 day ahead and cover and refrigerate them separately. Blot the cups dry just before filling.
PER CUCUMBER CUP: 24 cal., 58% (14 cal.) from fat; 1.1 g protein; 1.7 g fat (0.35 g sat.); 1.4 g carbo (0.36 g fiber); 61 mg sodium; 29 mg chol.