Recipes
Asparagus and Beets with Meyer Lemon Vinaigrette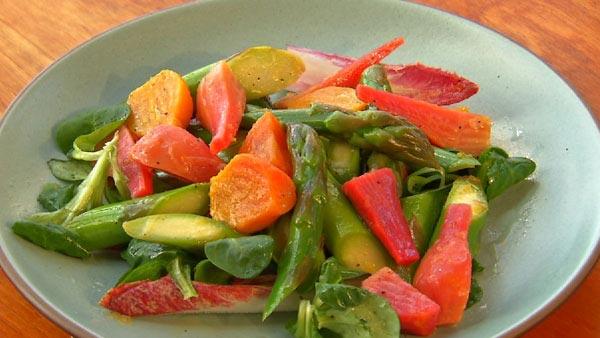 Servings: 4 to 6
Provided by: Annie Somerville
1/2 pound medium beets, preferably golden or Chioggia, scrubbed and trimmed
Meyer Lemon Vinaigrette (recipe follows)
Salt and pepper
1 pound asparagus, tough stem ends removed, cut in 2-inch lengths on the diagonal
Directions
Preheat the oven to 400 degrees F.
Place the beets in a small baking dish with 1/4 inch water. Cover the dish and roast until tender when pierced with a skewer or paring knife, 35 to 40 minutes, depending on their size. While the beets are roasting, make the vinaigrette. When the beets are cool enough to handle, peel and cut them in wedges. Place them in a serving bowl and toss with the vinaigrette.
Bring a small pot of water to a boil and salt lightly. Drop in the asparagus and cook for 2 minutes, until tender, but still bright green. Drain the asparagus and rinse under cold water. Give them a good shake to remove the excess water, and let dry on a kitchen towel. Just before serving, toss the asparagus with the beets and season to taste with salt and pepper.
Meyer Lemon Vinaigrette
Makes 1/2 Cup
1 teaspoon minced Meyer lemon zest
2 tablespoons Meyer lemon juice
1 tablespoon Champagne vinegar
1/4 teaspoon salt
6 tablespoons extra virgin olive oil
Whisk everything but the oil together in a small bowl. Slowly pour the oil in, whisking until emulsified.
Tip: Since this recipe calls for just a half pound of beets, this is a good place to roast some extras, so they'll be ready when you need them. They keep well for two to three days in the refrigerator.
* If Meyer lemons aren't available, use regular lemons or make Tangerine Shallot Vinaigrette instead.
Recipe from Everyday Greens, by Annie Somerville, Executive Chef, Greens Restaurant
Greens Restaurant Fort Mason, Building A San Francisco, CA 94123 Reservations: 415-771-6330
For more information visit greensrestaurant.com.
Executive Chef Annie Somerville has earned a national reputation for her imaginative approach to vegetarian cooking. Somerville is a popular teacher of cooking classes throughout the Bay Area, and is the author of Fields of Greens: New Vegetarian Recipes from the Celebrated Greens Restaurant (Bantam Books, 1993) and Everyday Greens (Simon and Schuster, 2003). Her works have also been featured in many publications, including Gourmet, Food and Wine, Ladies Home Journal, and Vegetarian Times.