Home with Lisa Quinn Episodes
Trends in Facial Care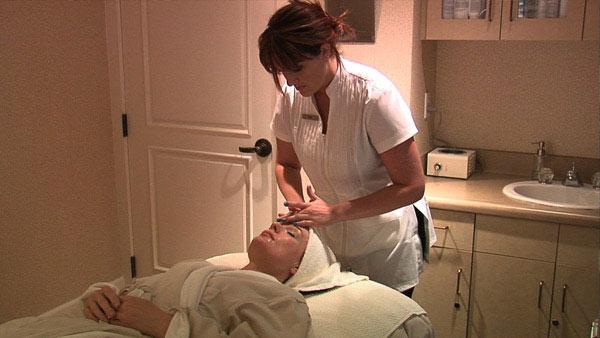 Find out the latest trends in facial care from one of the best spas in Sonoma.
PORE PURIFYING
Repair and relieve acne-prone, blemished, and oil complexions with the soothing and purifying benefits of zinc oxide and sulphur. Fruit and sugar acids dissolve pore clogging oil and neutralize blemish causing bacteria.
ORGANIC REBALANCING
Calm your senses and balance your skin with the purest ingredients nature has to offer. This certified organic facial utilizes papaya enzymes to eliminate dull, dry cells allowing peach and apricot butters to moisturize and nourish. Moringa seed peptides cleanse and purify while a buckwheat and algae mask boosts elasticity and circulation.
MOISTURE INFUSION
Quench your skin with Swiss alpine botanicals to restore elasticity and resilience. Tamarind seed extract is ultra moisturizing and wrinkle reducing, while calendula soothes and softens. This treatment strengthens tissue and stimulates collagen production to leave your skin feeling hydrated and looking radiant.
PURE RENEWAL
Resurface, recharge and renew your skin. A natural fruit acid and seaweed peel is used to dramatically exfoliate while essential fatty acids are combined with potent antioxidants to improve the structure of cellular membranes and restore their fluidity and suppleness.
QUICK LIFT TREATMENT
This ultimate instant gratification treatment incorporates an FDA approved micro current device, in conjunction with a specialized serum, that reactivates muscle memory to lift and tone your face while reducing fine lines and wrinkles for a more youthful appearance within minutes.
Guest:
Patty Field
The Raindance Spa
www.raindancespasonoma.com