Home with Lisa Quinn Episodes
The Playroom Big Reveal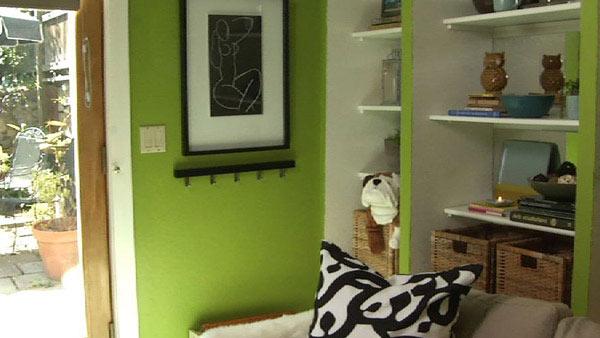 Robin and her family finally see their new garden playroom and can't believe their eyes when they see the amazing transformation. Check out how Lisa Quinn did it!
Lisa Quinn turned Robin and Pascual's bland room into a space that could be used for the entire family's activities. What are the main things she made a priority?
Indoor/outdoor use: Rather than taking up space with an entire mud room, Lisa created a mini mud corner so that Robin had a place to put shoes without tracking dirt into the room. This would make sure that Alejandro could play in a clean and sanitary space.
Baby-proofing the room: Lisa made sure not to use any hard surfaces or pointy edges in the room. She chose a cushy ottoman table with a removable cushion that turns into a sophisticated table for adults! She also bought a sofa with interchangeable covers to prevent any stains, and bought a soft grey rug that wouldn't get dirty easily.
Garden theme: Lisa Quinn wanted to bring the outdoors into the family's home by creating a fresh garden theme to bring the room alive. She used rocks, plants, and a green color scheme throughout. By using mirrors on the bookshelf, she brought in more light from the outdoors to make it feel like a sunroom. Lisa Quinn bought this botanical print from the
For more information on the Evolution Store visit
theevolutionstore.com
.
You can buy other botanical prints at Pottery Barn or Art.com.
Inside Scoop for a Playroom by Fabian Scrivani
This week we went to Oakland to create a playroom for Robin, her husband Pascual, and their ADORABLE son Alejandro. Robin reached out to us via Facebook and said she lived in a great new home but ran out of ideas when it came to her downstairs living room. She was hoping to create a sort of playroom/mudroom/living space that connected design wise with the beautiful garden view the room has. When we arrived, Lisa and I were floored by the incredibly lush exterior surroundings and interior possibilities the room had. After a quick rundown with Robin and a little planning, Lisa was ready to go!
Lets talk paint color and interior fittings: we chose a muddy lime green color for the walls that has a more contemporary flair than would a greener, grass green or Kelly green. There were some quirky built-in shelves that we decided to leave white and just paint around. Lisa had a few ideas for how to address them and make them more of a focal point. First, we had thought backing the shelves in decorative paper was a good idea, then we fell in love with the idea of applying a mirror to add depth and sparkle to that side of the room. We didn't feel like window treatments were needed, as there were already custom made thermal shades in place.
We needed to find functional furniture for the room, so Lisa decided on a streamlined, neutral colored sectional sofa that didn't take up too much space. A traditional coffee table with hard edges wouldn't have been practical for a toddler, so Lisa decided on a round leather ottoman that doubled as a serving piece for guests, and a toy chest for Alejandro's toys. A new soft shag rug will feel great under foot for a long time and really freshened up the existing carpet. Robin had asked for more storage, so we added a Billy bookcase from IKEA and lined the inside of the glass doors with a glass cloth fabric. We re-used an existing mid-century modern wood table and re-upholstered the seats in a black and white polka dot fabric.
Robin had some great artwork already on hand with a recycling/green waste theme that she could never figure out what to do with-- its turquoise and white color way really brought our look together-- we were thrilled. We simply merchandised the built-in shelves with books, candles, plants, the couples' wedding china, and other objects we pulled from around the house.
In the mudroom area, we laid out an indoor/outdoor mat beneath the French doors that will help keep the shag rug clean. Off to the right of the doors, Lisa picked out a low side table that we re-purposed into a show rack/shelf. Above that, we mounted a set of hooks to the wall that will be the perfect spot to hang gardening gear/bags/coats/etc. A simple framed print above it keeps that corner of the room from looking too utilitarian.