Home with Lisa Quinn Episodes
Revealing Kim's New Master Bedroom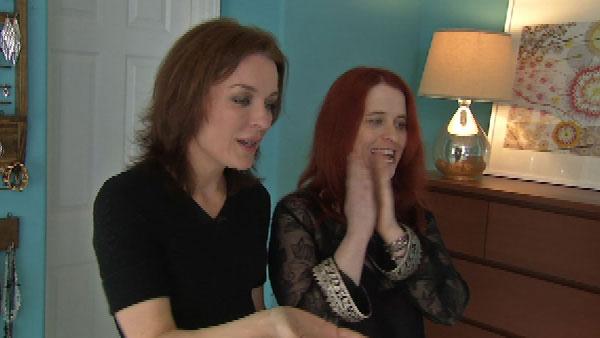 Kim's master bedroom has been turned upside down in this brand new makeover reveal! The question is: Will Kim like it?
Inside Scoop of a Master Bedroom Makeover by Fabian Scrivani
This week we tackled a master bedroom that was keeping our homeowner down. Meet Kim: a financial adviser for a large corporation by day and budding artist whenever she can be. Kim wrote to us via Facebook requesting an over haul for her master bedroom, part of the problem being its tie to a recent divorce and her desire to start new. Going through anything as difficult as a break up or separation definitely merits the need for a clean slate, so we jumped on the chance to help Kim out. Lisa and I were lucky that Kim had such a large space to work with, and even luckier that there was ample street parking for the three days we were there ;)
As usual, the wall color always comes first. I have to admit that often times when I run out to get paint after Lisa and I have put a design plan together, I wonder if we ever go over the top. ((this week the thought crossed my mind)). A gorgeous robin's egg turquoise blue with a tinge of lime green really add life to the room and would make all our accessories POP. A color this vibrant might scare a lot of people off because they feel like it may be too energetic or bright, but to be frank, sometimes you need a little more than beige or gray in a bedroom. I'll go into more detail in a sec and you'll see how it all comes together.
We really wanted to create a soothing, feminine retreat for Kim that had a spa-like feeling while being quirky and sensual. What would you call such a fusion? Well, I'd say "urban peacock meets hand-made contemporary" of course. By combining textiles with a hand-made look in super rich colors with sleek modern lines and washed woods, we could create a contemporary rendition a Moroccan palace right here in SF. Kim had wanted a fresh start, which to us meant all new furniture. We started with the foundation piece, the bed, and Lisa picked out a washed gray platform bed with a headboard. For extra storage and a sexy contemporary POP, high gloss MALM dressers from IKEA make perfect side tables.
To take advantage of 'me time' beside the gorgeous bay window in the room, Lisa picked out a new chaise long in a gray tweed that is the perfect spot to catch up on reading. A fabulously furry and feminine flokati rug covers up the boring beige carpeting and adds a lush, bohemian touch. We kept the bedding simple, choosing classic white sheets and a chic white duvet with elegant yet sparing burgundy cross stitch. Orange velvet euro pillows and a hand-embroidered suzani bed spread with hints of pink, purple, lime green, and lapis blue add rich depth of color to the look and echo the contemporary Moroccan theme.
A new dresser opposite the bed in a rich mahogany finish adds interest. A good tip to remember when out shopping for bedroom furniture is that you don't need to buy a matching suite. Pieces with different finishes add a wonderful eclectic, gathered look that will always look 'designed' vs. bought off the rack. The crowning glory in the space has to be the incredible gilded sunburst mirror we hung over the bed. The mirror was the biggest splurge in the room, coming in at over $300, but it was SO worth it for the richness and glamour it provides.
The best bargain I have EVER found were the lamps on either side of the bed: I found them at Lowes for $23 each, including the shades! That's an absolute steal for lighting, and they add a bit of sparkle.