Home with Lisa Quinn Episodes
Reupholstering Furniture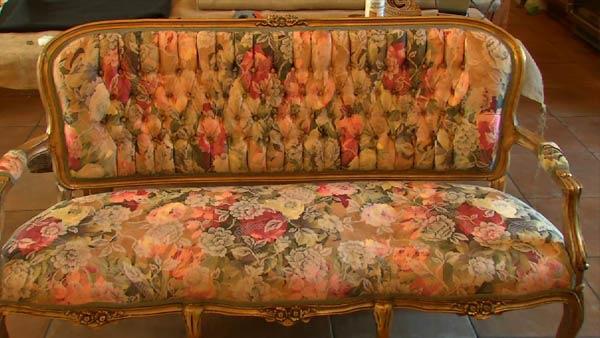 Lisa Quinn turns an old worn out piece of furniture into something new and beautiful.
Reupholstering Furniture:
Choosing a Fabric: Before you can take on the task of reupholstering, you will first need to decide on the type of fabric you want your chair, cushion, or sofa to have. It is important that you choose upholstery-quality fabric, and not regular fabric. Upholstery fabric is much more durable and will stand up to the test of time, unlike regular fabric. Most upholstery fabrics are stain-resistant too, which means that you don't have to worry too much if you spill.
You will need:
a staple gun (with staples) or upholstery tacks
a pair of needle nose pliers
a rubber mallet
a pair of sharp scissors
glue gun
Reupholster a Chair Cushion:
Unscrew the seat cushion from the chair frame.
Remove all of the staples or tacks in the fabric using pliers.
Remove all of the fabric.
Most chair cushions are made out of a single piece of wood. Take this piece of wood and lay it on top of your new fabric. Cut around the piece of wood with your scissors, leaving at least two or three inches extra overhang on each side.
Replace the stuffing with new batting. Lay the seat board on top of the batting, and pull the sides of the batting tight over what will be the bottom of the seat. Staple the batting down with your staple gun. Trim off excess batting.
Lay the piece of wood, batting-side down, over your fabric. Pull the sides of the fabric and stretch it over what will be the bottom of the seat. Staple the fabric down on all four sides.
Throw Pillows:
Throw pillows can make your furniture look more inviting because they can add texture and color to a room.
Here are some tips:
Any size pillow can work. Use different shapes & sizes to add interest to a room. And, you don't have to have the same amount of pillows on each side of the sofa. Mix it up.
Any color can work. Just make sure it fits the mood of your room and your personal taste.
Don't be afraid of being bold with your throw pillows. Pick out fun looks.
Choose solid color throw pillows mixed with patterned ones.