Home with Lisa Quinn Episodes
Man Cave Master Bedroom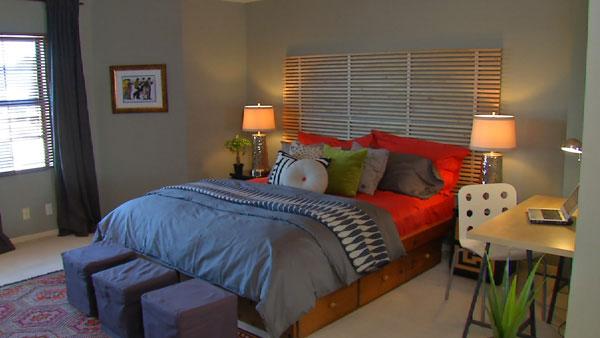 Lisa Quinn transforms Ron's multipurpose room into a master bedroom that doubles as a man cave.
Inside Scoop for a Master Bedroom makeover by Fabian Scrivani
This week we headed off to beautiful San Francisco to help a homeowner with a super dated bedroom. Meet Ron, a financial professional and sports car enthusiast who has a huge master bedroom stuck in an eighties time warp! Ron ended up with a lot of dated furniture after his first marriage and felt it was time for a radical change. We met his girlfriend Liz who frequently visits, and she too was ready for an update! We were super lucky to have a big, bright space to work in, which our regular viewers know is hardly ever the case.
Time to talk about wall color. We chose a steely-gray for the walls that adds a sophisticated, masculine vibe and covered up that awful mauve accent wall. Lisa wanted to go somewhat neutral. As usual, the focal point in any bedroom is the bed, and we had the opportunity space-wise this week for an interesting twist on a headboard.
We ended up mounting two slat wood headboards from IKEA to the wall that add interest and warmth while drawing your eye up and really creating a focal point. We choose a deep, rich orange sheet set and a charcoal gray duvet for a bold splash of color. A few eclectic pillows with different textures and patterns add interest and finish off the look. Flanking the bed are two night tables also from IKEA, but to spice them up, Lisa used her favorite appliques from myoverlays.com They were super easy to apply and a little gold paint really made them stand out-- the Greek key motif we used scream Versace couture. Two rippled mercury glass lamps add a little sparkle.
A gorgeous rug adds subtle, elegant color without being over the top. A matching dresser with the same overlays as the night tables becomes a perch for Ron's television. A funky, 70's style leather lounge chair with matching ottoman is a great spot to read in. A potted tree in the corner adds a little life, and the illuminated eye chart accent light above it we found adds interest. On the other side of the room, we setup our new favorite glass and metal shelving units that are the perfect solution to house all of Ron's collectibles and car memorabilia. Above the shelving we mounted Ron's foreign license plates and framed some of his family photos. Bright colored art and bright colored walls may make them compete for attention. It's best to keep one bright, or add a warm backdrop.
When you have a collection of things to make them more impactful pick out the best, put others in another room. When you have a collection of things it's best to keep them together and display only your favorites. It will have more of an impact and help you cut down on a cluttered look.