Home with Lisa Quinn Episodes
Fun Kids' Craft Project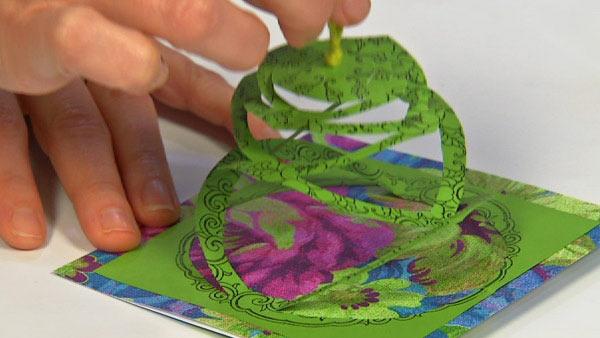 Sarah Hodsdon shares a fun kids' craft project.
Kids' Paper Art Project:
1. Start with a square sheet of paper. Fold in half to form a triangle. Fold in half again to form a smaller triangle. And do that once more.
2. Rotate the paper so that the edges of the paper points down.
3. Use scissors to cut the paper. First cut from right to left, then cut from left to right. Continue in this until you reach the tip of the triangle. Try to cut to the edges but be careful to not cut the paper completely across so that it falls apart.
4. Unfold the cut paper.
5. Grasp the central finger holes and lift the paper. Spread the outer layers downwards. This produces a springy, hanging decoration.
Sarah Hodsdon is an internationally recognized Mixed Media Artist, award winning Designer, Inventor, Media Personality, Author and Instructor. Her work has been published in Somerset, Stamper's Sampler, The Rubber Stamper, Scrap & Stamp Arts, The Card Maker, RubberStampMadness, VSN, Home Companion, Ready Made, Expression Arts, Indie Arts, Crafts n Things, Creative TECHniques, as well as in a number of books, industry publications, e-zines, online galleries, advertisements and National Media campaigns. Many thousands of Sarah's handmade notecards and sundries have found their way around the world and her Fine Art Collages are hanging in prominent places in private collections, businesses and galleries.
Sarah works with amazing companies and brands in a variety of capacities ranging from Licensing & Design, Product Concept and Prototype, Media Consultation, Illustration, Ad Copy, Infomercials, Scripting and Storyboards, Project Origination, Step-outs, and Instructions, Kit Concept & Design (for children as well as adults) and Authoring Original Content (traditional Media (magazines and books) and Emerging digital technologies (e-books, blogs, vlogs, apps, and virtual worlds).
Sarah has worked with Provo Craft (Cricut and Yudu), Xyron (Creatopia), Fiskars, Mrs.Butterworth, Tsukineko, MercArt, JudiKins, Golden Paints, Art Declassified, and various other companies. She has had the privilege of designing for over 60 manufacturers in the Arts and Crafting Community and contributing to over 40 publications in the last 12 years. Sarah has had the honor of being awarded Craft and Hobby Association's Best in Show for License and Design and multiple Golden Press Kit Awards. In addition, Sarah has also been awarded Editor Choice awards at Maker Faire San Mateo 2011 and Maker Faire Detroit 2010.
Sarah is currently the Resident Scrapbooking Expert for Bic Mark-it Markers, Chief Creative Officer for Sarahndipitous Designs LLC, Artistic Director for Craft Initiative and it's subsidiary 48 Chickens Production and Media.
Sarah doesn't wear a cape or spandex, prefers jeans, t-shirt, work boots, copious amounts of coffee, and an apron. Sarah's Nerf gun skills are the stuff of legend and when she isn't teaching, she is raising 3 kids, chickens, dogs, cats, and organic veggies with her husband on their 10 acre plot of wooded paradise. She and her family are advocates for Michigan and it's growing Creative Community; locally she volunteers her time & resources using art in untraditional ways to aid at risk youth and literacy programs. On any given day Sarah's studio is a cacophony of mechanical whirrs, fierce robots, awesome music cranked up, experimental crafting supplies, canvases in various stages, and a camera crew poking around hoping to catch the mysterious and ever elusive Jackalope said to live in the old fox den at the end of the zip line.