Home with Lisa Quinn Episodes
Easy Tricks for Entertaining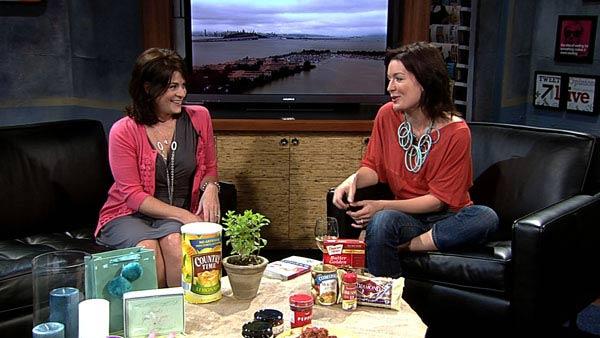 Lela Davidson reveals her tips for entertaining southern style. She shares easy ways to throw a party without a lot of fuss.
7 Tips for Clueless Chicks (Like Me) by Lela Davidson
Relocating from the West Coast to the south requires some adjustment. In addition to joining the Junior League, learning the correct pronunciation of y'all, getting the kids into cotillion, one must adopt the southern tradition of hospitality. Fortunately, for laid-back California girls like me, there are a few tricks to this trade.
1. Always Over-invite
The more people in the room, the less likely it is that any of them will notice your sub-standard cooking skills. Not that there's anything wrong with that. Just know that people can be rude, even in the south, and won't always RSVP. Relax and be prepared for anything.
2. Ask for Help
Friends really do want to pitch in, and acquaintances become friends when you bond over the cream cheese dip, especially if one of you has gossip. When someone calls on her way to the party asking if they can pick something up, always say wine or vodka.
3. Set up Stations
Putting snacks in different areas of your home encourages people to park somewhere other than the kitchen. (Truthfully, this almost never works, but at least you retrieve these "hidden" snacks and eat them when everyone goes home.)
4. Hit the Flea Markets
The great southern tradition calls for setting grandmother's fine china with more modern pieces. If you don't have heirlooms, flea market plates, cups, and linens fill in fine. And no, they don't have to match.
5. Deli, Take-Out, and Catering
The best southern hostesses know that presentation is everything. You couldn't pay me to make fried chicken, but you'd be surprised how convincing take-out can be when served on that fine bone china platter.
6. Garnish Everything
Speaking of presentation, everything -- everything -- gets garnished. You got that? Potato salad from the grocery store is transformed with chopped tomato and chives. Lemonade from concentrate is suddenly homemade with the addition of a sliced lemon and some mint leaves.
7. Signature Cocktails
When you want to step it up a notch from boxed of wine poured into a crystal decanter is always sure to please, serve a cocktail to match your theme. Better yet, find a recipe you love and serve it over and over. So long as your signature drink is not boxed wine, you'll be a hit.
Entertaining is easy when you remember that it's supposed to be fun. It's not about impressing anyone or getting every detail just right. Sure, some people will always complain about your food, pick apart your guests, or snub your invitation. And to that I say, 'oh well, y'all.'
Lela Davidson is the author of Blacklisted from the PTA (Jupiter Press, July 2011). Her writing is featured regularly in family and parenting magazines throughout the United States and Canada. She blogs about marriage, motherhood, and life-after-40 at After the Bubbly.