Home with Lisa Quinn Episodes
Easy DIY Projects: Paneled Door and Seat Cushions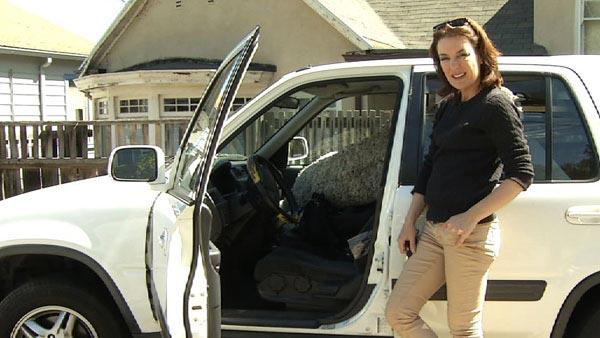 Looking for some easy DIY projects? Lisa Quinn shares all her tips and tricks to add style to a room without buying more furniture.
Here are some exciting tips and DIY projects for you to use in your own home makeover!
PANELED DOORS
Cover your shelves and bookcases with doors that have convertible panels. Not only does this allow for creative new colors and textures, it can also simplify your room and make it more pleasing to the eye.
1. Find any patterned fabric or paper you like. In this episode, Lisa Quinn uses a textured panel curtain to make the bookshelf more appealing. (Click here to get it at Ikea or click here to heck out similar fabrics at Pottery Barn.)
2. Cut fabric and insert into panels.
3. Consider using the same pattern in other areas of the room! Lisa chose a similar woven pattern for Alejandro's toy boxes.
DIY SEAT CUSHIONS
Sometimes buying new chairs can be pricey and unnecessary. Here's a clever way to redo the chairs you already own while spicing up the room.
1. Buy a fabric that goes well with the theme of your room.
2. Pop the seats off of your chairs and cover them with the fabric. Staple the fabric to the bottom.
3. Pop the seats back on.
For more information on the crew:
Painting- Moondancepainting.com
Furniture Assembly- Konkordassembly.com
Furniture- IKEA.com
Paint- kellymoore.com