Home with Lisa Quinn Episodes
Create a Wall Mural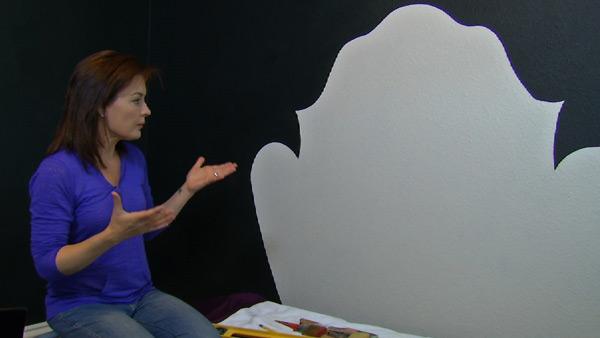 Lisa Quinn paints a wall mural in the shape of a head board above the tween's bed. See how the mural adds pizzazz and fun to the room.
Invest in a good brush for a cleaner edge. A good website to find brushes is
www.purdycorp.com
.
And, use quality paint. Kelly Mooore Paint, www.kellymoore.com, has a variety of paint.
Get a good paint service to paint your base coat. Varsity Painting offers painting services in California. For more information visit www.varsitypainting.com.
Painting a mural using an overhead projector:
STEP ONE:
Select the image or design that you want to use for your mural. Prepare a color copy and black and white copy of the image. Intricate images are hard to accomplish. Keep it easy--think "coloring book".
STEP TWO:
Get a projector. You can sometimes borrow them from your local library or elementary school, but they're fairly inexpensive at any art store.
STEP THREE:
Turn the projector on and project the design onto the area you plan to paint.
STEP FOUR:
Place your image under the projector and adjust the projector until the image is the desired size. Make sure the projector is squarely situated in front of the wall. If it is angled, it will distort the image. In case you need to move the projector before you are finished, mark the position of the projector with masking tape.
STEP FIVE:
Trace the projected image on the wall with a soft pencil or chalk.
STEP SIX:
Using the color copy of the image, purchase the paint you need for your mural. Use acrylic paints, although interior latex paints are a feasible option for large areas of color.
STEP SEVEN:
Paint the large areas of your mural first, using a wide, flat paintbrush. Add details and outline images with a round paintbrush. For more helpful information regarding selecting the right paints and brushes, check out our painting wall murals tips page.
STEP EIGHT:
After the paint is completely dry, erase all pencil or chalk marks.
Removable Wall Stickers
If you don't want to paint murals on your wall. You can decorate your kid's room with removable wall stickers. Here are some sites where you can find them: