Home with Lisa Quinn Episodes
Create a Gallery Wall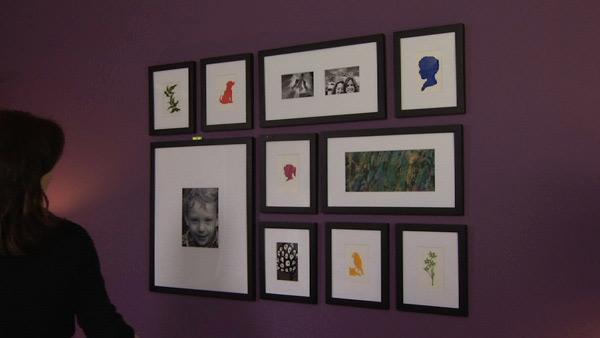 Lisa builds a gallery wall for the family. See how it changes the room.
Tips for a Successful Gallery Wall:
By Fabian Scrivani
1. Map out a simple diagram on graph paper or use low-tack painter's tape directly on your wall to get an idea for how your frames might lay out.
2. Mix and match frames for a fun and eclectic look... gold/silver frames, wood/metal frames, ornate/simplistic, vintage/contemporary.
3. Keep the finish of the frames consistent for an elegant, museum inspired look. For example, all black finish frames in different sizes.
4. Personalize! Mix and match graphic prints, black and white photos, vintage polaroids, etc.
5. You can frame scraps of fabric or plant clippings from your garden for added color, texture, and interest.
6. Maintain visual appeal and readability. The center of your design should hit at about 5ft off the floor (standard viewing height). Maintain 1/2" to 1" of space between frames. For a clean look, the tops of the frames should all meet in a straight line. For a casual look, stagger the tops of the frames slightly.
For more information about The Perfect Picture Wall Company visit www.thepicturewallcompany.com.