Home with Lisa Quinn Episodes
Clever Room Fixes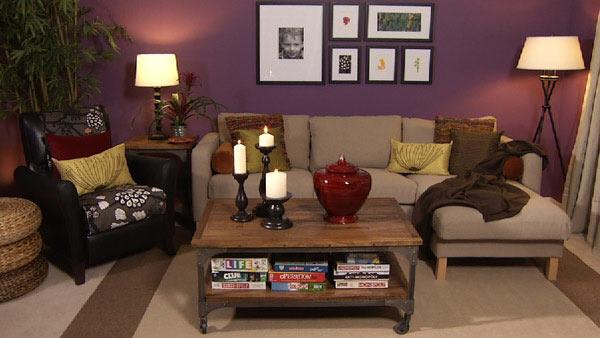 Lisa Quinn turns the hodgepodge space into a warm and inviting living room. She reveals some clever ways to make dramatic changes without spending a fortune.
The Inside Scoop on the Living Room Makeover:
By Fabian Scrivani
Furniture:
If you have kids or animals in your house pick rustic, re-claimed or waxed wood furniture. It is great for kids and pets because it is SUPER forgiving to scratches and spills -- in fact, everyday wear and tear only add character. It adds warmth and a cool industrial/time worn look to a room.
Tables on casters (in our case the coffee table and side table) make for easily convertible pieces in the room that are easy to move around for a party or event, and can be easily re-configured as your spatial needs change. The tables we chose are from Cost Plus World Market, and the coffee table in particular doubled as storage for board games.
A sectional sofa in the right proportions can be an easy solution to the infamous, "I need more seating!" dilemma. In our case, a sofa with a chaise lounge provides extra seating without taking up extra space like a traditional sectional sofa. A neutral fabric means decorating with color is easy, as neutral colors are the perfect back drop for accent colors.
Nearing the top of our budget and still wanting to address the home owner's existing leather chair that had seen better days, we used a piece of fabric with a fun and graphic print. It was inexpensive and you can purchase it by the yard at IKEA. Folding a large rectangle up and hemming down one side, created a sort of throw covering that disguised the wear on the seat and sides and added color. The beauty of the project is that Jean can easily change out the fabric should her taste evolve, and all she would need is a few dollars and a Sunday afternoon.
Rug:
We added an area rug over the existing carpeting to ground the seating area and add texture. Putting an area rug over carpeting is typically a no-no, but choosing a tightly woven/braided rug in a natural fiber will maintain its integrity over time and not buckle under the furniture. Natural fiber rugs can be difficult to care for, so by choosing a synthetic fiber like we did, we could assure Jean that clean-up and maintenance would not be an issue.
Accessories:
Candles add soft lighting and instant warmth and romance to a space. For added safety, good quality flameless candles can be found at many home goods retailers like Target and Pottery Barn. They give the same feel to a room without the worry of an open flame.
Plants add instant life and often times a much needed sense of green/nature. You can mix and match good quality, faux plants and real, low maintenance plants if you don't have a green thumb. Another way to go is to invest in a good quality faux tree (no work!) that will emphasize the height in your room and fill out a corner nicely. You can use an up-light, available at hardware stores, positioned on the floor to light the tree from below, creating a dramatic shadowing effect.
The lighting in the room had to play more of a supporting role rather than an all-star in this space. Not to say that lighting isn't absolutely key in any room, it's just that the wall color and furnishings were bold, and simple, functional silhouettes made more sense. A simple tripod style floor lamp nicely balanced the corner opposite the tree.