Home with Lisa Quinn Episodes
Bathroom Inspiration from a Tailored Suit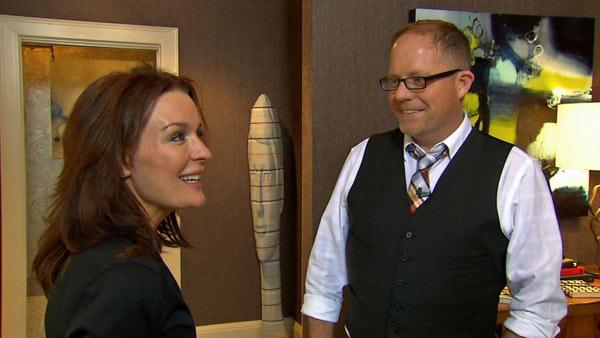 Lisa Quinn checks out a bedroom design inspired by a perfectly tailored suit.
The ultimate compliment from a happy client is "I don't want to leave this room!" For me, that is the essence of interior design and decorating -- particularly for the home, that most personal of places. Whether you are working with a designer or doing it yourself, the goal is to create spaces where you want to linger and just "be."
Here are some tips to achieve a comfortable, lived-in space:
1. Set the mood with color. Generally speaking, earth tones will make a room feel grounded and soothing, while a room painted a bright color can add energy. Always test colors by painting a large enough samples in the intended spaces, as different lighting conditions can severely affect how colors read.
2. Don't forget the ceiling! White ceilings are boring. If you're afraid of the idea of painting the ceiling anything but white, pick a pale shade of almond, putty or buff. If you're not afraid, go for something more unusual like the pale pink ceiling I chose for the Decorator Showcase.
3. Create nuance and layers. Combine and contrast-not just design styles and periods but also price points to achieve a lived-in look. Your home may be your castle, but it should not feel like a museum.
4. Collect and display. Show off your collections-whether pricey or priceless-by either framing them in a shadowbox for the wall or displaying as a group on a table. But always remember that there is power in numbers and a good collection looks best with multiples, not just one or two of something.
5. Texture is just as important as color. Many of the best rooms out there feature a nice mix of textures -- smooth, shiny, rough, matte, organic, supple, nubby, etc. You could create a very interesting space hardly any color and just a mix of a well-edited group of textures. That would be very luxurious and chic!
Brian Dittmar Design reinterprets the classic aesthetic with a sophisticated twist for contemporary living. For more than 15 years, Brian Dittmar has created interior and exterior spaces that reflect each client's life and individual style. A passion for graphic arts and architecture originally led Brian into a design career. Many years later his philosophy is still influenced by the disciplines' shared principles. Through this classic approach, Brian and his team create environments that are timeless and livable, yet also of-the-moment.
For more tips Brian Dittmar from visit www.briandittmardesign.com.