Home with Lisa Quinn Episodes
A Cheerful and Modern Teens' Room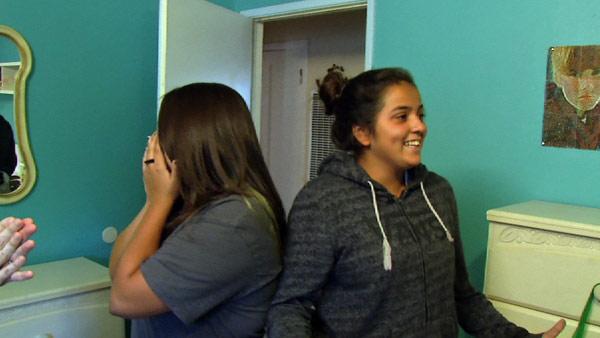 Lisa Quinn designs a functional and fun space for two teenage girls who are sharing a bedroom. Lisa sets up comfortable individual sleeping areas for the girls and adds lots of storage to the room.
Inside Scoop for Teen Design by Fabian Scrivani:
Wall Color:
We chose a gorgeous and vibrant electric turquoise for the walls. The color is a great backdrop for our artwork and furniture because of the graphic pop it provides. It also compliments the red oak floors that were an existing element in the space.
Accents:
Pops of red and black add a vibrant touch. These weren't "girly girls" by any stretch, and from that the room took on a young, pop-art vibe that still feels feminine.
Furniture:
Versatile and multi-functional furniture pieces were absolutely CRITICAL in this bedroom. Because of the room's generous rectangular shape, we were able maximize the perimeter of the room while still maintaining a sense of open space in the center. The beds from IKEA are great because they can be configured with either a trundle bed for guests, or under-bed baskets for extra storage. The headboards in these beds are the coolest feature because they slide out for access and can slide back into the frame itself to hide the clutter away. The frames have a white melamine finish which means they are super easy to clean and maintain.
The girls now have a make-up/homework station area via a new desk. There's a spacious top and clean lines so it can transition as their needs change. A funky mod desk chair on casters can be rolled to where ever the action is.
Inspiration sources for tween/teen decorating:
www.totallygirly.com
www.pbteen.com