Gigi Stone Woods
Host of 'Hiring America'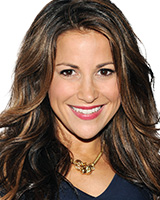 Gigi Stone Woods is an award-winning, national TV on-air host, anchor, correspondent and producer from ABC News, CBS News and Bloomberg TV. She creates, writes and produces her own programming. Stone has interviewed everyone from Fortune 500 CEOs to Hillary Clinton to Ashton Kutcher. She has covered Presidential elections, Hurricane Katrina, the financial crisis, and Osama Bin Laden's death, as well as red carpet events including the Oscars and NY fashion week.
Stone works as an anchor and correspondent at CBS News and is the on-air host and co-producer of "Hiring America," a national TV employment show which airs on WABC-TV and 74 markets across the country. Stone also works as an anchor and host of various news and lifestyle programs and as an on-air media trainer and TV consultant through her company, Stone Woods Media.
At ABC News, Stone was the anchor for national TV news shows, including "ABC News Now" and "World News Now" and a daily correspondent for "Good Morning America," "World News" and "Nightline." She also hosted, co-created, and produced shows for ABC network's digital channel and worked as a TV News anchor on WPIX-TV and NY1.
At Bloomberg Television, Stone covered business and breaking news for the network. She co-hosted "Bloomberg Enterprise," a program profiling the CEOs of fast-growing companies. She also created, co-produced and hosted the "Inspiring Women In Business" interview series on Bloomberg TV. Stone's expertise includes covering the businesses of media, entertainment and fashion. Stone moderates panel discussions for PowerwomenTV and Women, Inspiration, and Enterprise.
She received her master's degree in journalism from Columbia University.
Stone Woods is on the board of directors of education non-profit "The Opportunity Network" and is on the corporate advisory board for Thuzio, a media company.