Recipes
White Peach Cobbler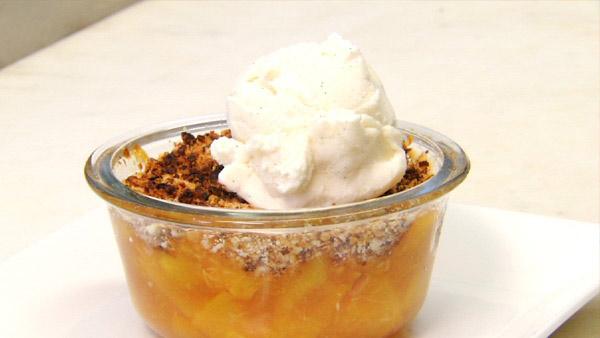 Provided by: Chef Ben Paula
White Peach Cobbler: 1 dozen White Peaches
1 cup Brown Sugar
1/2 cup Bourbon (quality spirits do matter, use Bulleit Bourbon or Maker's Mark) Crumb &amp
Oat Topping: 3 cups Quick Oats
1 cup Melted Butter
1/2 cup room temp butter
2 tbsp. Brown Sugar
S&P dash
1/2 cup Flour
1/2 cup Sugar
Directions
Making the perfect slow toasted oats with crumb topping takes preparation the night before but it is my favorite way to do this:
1) Preheat your oven to 400 degrees
2) Toss the oats with the melted butter, sugar, salt & pepper and put the mixture in the oven for 30 minutes.
3) After ˝ hour shut the oven off and leave the mix to cool at room temperature for 5 hours or overnight. Once you have toasted your oats and allowed them to cool, make your crumb topping by combining the room temperature butter, cream and sugar with the flour.
Mix in the toasted oats in a 1 to 1 ratio (crumb topping to toasted oats) and your topping is ready. You can use any combination of seasonal fresh fruit that you have access to as filling. The key to success with this dish is making sure the sauce is thick enough to suspend the fruit in the dish. To achieve the desired thickness, cut your fruit(s) into two different sizes, some large chunks which will remain recognizable as the fruit in the dish, plus smaller pieces that will cook down and dissolve into the sauce. (Or you can cheat with corn starch)
Cut the fruit into the two sized pieces, 2/3's larger than bite sized, and 1/3 in small chunks
Heat the bourbon in a sauce pan. When it gets warm, tilt the pan to allow the alcohol to ignite and keep heating until the blue flame burns off, (if you are electric you will need to ignite it yourself)
Add the sugar and cut fruit and simmer until the cobbler reaches desired thickness (10 to 15 minutes)
Pour the filling into a casserole dish and top with a thick coat of the toasted oat topping mix
Bake @ 350 for 20 minutes
Serve piping hot with ice cream
Guest: Chef Ben Paula fell in love with the kitchen growing up cooking with his dad in their family home in Massachusetts. While attending Endicott collage out side of Boston, Ben got his 1st chance to directly influence the output from a restaurant kitchen while creating daily menus as Sous Chef for the Wild Horse Cafe. He liked the challenge and the satisfaction of creating the dishes, and knew eventually he wanted to open his own restaurant. While assisting world renowned "Fear no Ice" ice carving performers with an exhibit at the Vail Cascade resort, Ben caught the eye of Chef Jesse Llapitan. Chef Llapitan offered him a position at the four-diamond Vail Cascade Resort and a year and a half later invited Ben to join him as Banquette Chef for the grand opening of the St. Regis Hotel in Los Angeles. Following a tremendously successful opening Chef Ben was asked to take over as Executive Sous Chef at the Universal Sheraton where he gained invaluable experience in catering and event execution. Ben then decided it was time to return to the more intimate restaurant scene and left the hotel industry, moving to San Francisco in 2003 where he revitalized the menu at Charlie's on Union. After serving as Chef and GM for Charlie's Ben decided the time had come and struck out on his own with Sauce in Hayes valley.
From blazing chainsaws and 400 lb blocks of ice, to razor sharp knifes and blistering sauté pan's Chef Ben rises to any challenge, and creates from the heart. In his first restaurant venture he does a bit of everything; from personally hand crafting the redwood bar during construction, to delivering the extra ladle of gravy to a table in need. Chef Ben's love comes through in every aspect of Sauce and his food and personality resulted in its ranking #2 in the "Best new Restaurant" category of San Francisco Magazine's 2004 readers' poll. Signature Chef Ben dishes, ranging from portabella mushroom fries to bacon wrapped meatloaf, will warm your heart as well as fill your belly, and like Ben himself, always deliver just a little more than you expect.