Recipes
Warm Moroccan Couscous Salad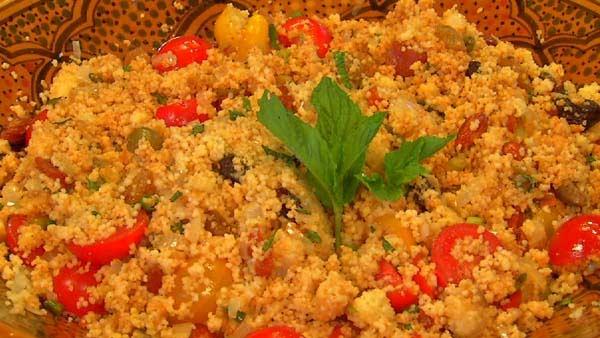 Servings: 6
Difficulty: Easy
Time:
Provided by: Bruce Aidells
4 tablespoons olive oil
1 1/2 cups finely chopped onions
Salt
1/2 teaspoon turmeric
1/8 teaspoon cinnamon
1/8 teaspoon allspice
1 teaspoon cumin
1 teaspoon coriander
1/4 teaspoon ginger
1 tablespoon sweet Hungarian paprika
3 cups chicken stock
2 cups instant couscous
1/2 cup golden raisins
1/2 cup diced pitted prunes
1/2 cup diced dried apricots
1/2 cup coarsely chopped fresh mint
1/4 cup finely chopped green onions
1/2 cup toasted almonds
1/4 cup chopped green olives
2 cups halved cherry tomatoes
1/3 cup lemon or more to taste
Salt and freshly ground black pepper
Directions
Heat a 3-quart sauce pan over medium high heat and add 1 tablespoon oil, the onions and a pinch of salt. Stir and fry until onions are soft, about 5 minutes. Stir in all the spices and stir until the onions are well coated, about 30 seconds. Add the stock and bring to a boil.
Sprinkle couscous into a large shallow serving board and pour stock mix over. Stir and let the couscous sit for 5 minutes to absorb the liquid. Stir in the remaining olive oil and all the remaining ingredients. Taste for salt, pepper and additional lemon juice. Serve as a side dish to Tandoori-Marinated Red Snapper
To Toast Almonds -- Place nuts into a heavy large frying pan. Season with a pinch of salt and shake pan continuously over medium heat until the nuts give off a toasty, nutty aroma.
Serve as a side dish to Tandoori Red Snapper. Serve with wheat beer such as Pyramid Hefeweizen.