Recipes
Warm Ginger Cake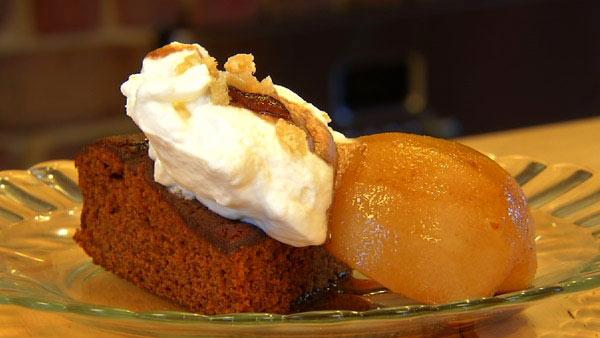 Servings: 12
Difficulty: Easy
Time:
Provided by: Bruce Aidells
Butter and flour for the baking pan
2 1/2 cups all purpose flour
2 teaspoons powdered ginger
2 teaspoons cinnamon
2 teaspoons baking soda
1/2 teaspoon salt
1 cup (2 sticks) unsalted butter at room temperature
1 1/4 cups packed light brown sugar
2 large eggs at room temperature
1 cup molasses
3/4 cups stout, flat, at room temperature
1 cup whipping cream
2 tablespoons confectioner's sugar
1 tablespoon finely chopped crystallized ginger
Directions
1. Preheat oven to 350 degrees.
2. Butter and flour well two 6-cup cake pans (9-inch).
3. Sift together all dry ingredients.
4. Using a handheld mixer set at high speed, beat the butter and sugar in a large bowl until light in texture, about 1 minute. Beat in the eggs, one at a time. Beat in the molasses (the batter may look curdled at this stage -- don't worry). Lower the mixing speed to medium. Beat in the flour mixture, one third at a time, scrapping down the sides of the bowl often. Beat in the stout.
5. Scrape the batter into the prepared pans, and smooth the top. Bake until a toothpick inserted in the center comes out clean, about 40 to 50 minutes. Cool in the pans on a wire rack for 10 minutes, then unmold onto the rack. Continue to cool while you make the whipped cream (if desired).
6. While the cake is cooling, make the Ginger Flavored Whipped Cream. Beat cream and confectioner's sugar together until the cream creates soft peaks. Add the ginger and stir to blend.
7. To serve, slice each cake round into 6 pieces and serve the warm cake with a generous dollop of whipped cream or serve as is or with sliced fresh pears.
* This ginger cake is made with stout such a Guinness but you can use a dark German beer as well. It's great cold, but if you can be organized enough to serve it warm, it rises to new heights. It's very special served with whipped cream flavored with crystallized ginger but you can serve it on its own as well.