Recipes
Turkey Meatballs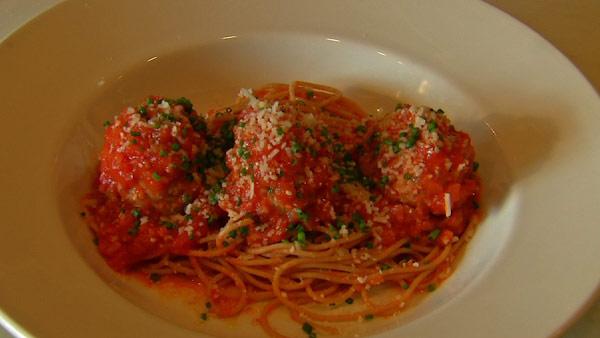 Servings: 4 Servings
Difficulty: Easy
Time:
Provided by: Bob Simontacchi
2 Pounds Turkey
4 oz Parmesan Cheese
4 Tablespoons Chopped Chives
2 Tablespoons Minced Garlic
3/4 Cup Finely Diced Onions
1/2 Cup Finely Diced Red Bell Peppers
2 Tablespoons Fresh Chopped Thyme
1 1/2 Tablespoons Ketchup
3 Tablespoons Dijon Mustard
3/4 Cup Bread Crumbs
2 Eggs
1 Pound Whole Wheat Spaghetti
Directions
Meatballs:
Heat 2 Tablespoons of oil in a saute pan. Cook oninons, chives, peppers and garlic til soft. Set aside to cool.
In a mixing bowl combine turkey, cheese, thyme, ketchup, dijon mustard, bread, crumbs and eggs. Combine all ingredients well -- form mixture into 1 1/2 to 2 inch balls and place onto oven proof dish.
Sauce:
Ingredients:
2 Tablespoons Olive Oil;
1 1/2 Cup Chopped Onion
1/2 Cup Chopped Fennel
2 Tablespoons Minced Garlic
2 -- 28 oz Cans Crushed Tomatoes
10 Large Basil Leaves
Heat oil in a large sauce pan over medium heat. Add onion, fennels and saute for five minutes. Add garlic, stir one more minute. Add tomatoes and bring to a boil. Reduce heat to medium and add basil leaves.
Simmer until sauce thickens slightly, about 15 minutes, season with salt and pepper.
Using a blender, puree until smooth.
Finishing the dish, pour sauce over meatballs. Place entire dish in a 375 degree oven until meatballs are cooked through -- approximately 20 minutes.
Meanwhile, cook pasta in a large pot of boiling salted water until just tender but firm to the bite. Drain pasta and return to pot. Add sauce and toss to coat. Transfer pasta to bowls and top with meatballs and more sauce. Garnish with parmesan and chives.
Guest Chef:
Bob Simontacchi
Chef de Cuisine and Restaurant Partner -- Brick and Bottle
With the opening of Marin County's Brick and Bottle in May 2010, Bob Simontacchi will debut as Chef de Cuisine and restaurant partner. Bob has a long and successful history with business partner and Executive Chef, Scott Howard, and a shared vision to serve simple California cuisine.
A Bay Area local, Bob graduated with a culinary degree from City College of San Francisco. Beginning his career in Dallas, Texas, Bob assisted in three restaurant openings, learning the full operations side of the restaurant business. Soon after, he moved back to the West Coast working at restaurants such as Oodles, Chapeau! French Bistro as well as acclaimed Fairfax restaurant, Ross Valley Brewing Company, where he spent two years and gained valuable insight into the Marin County market.
Next, Bob took on a position working with Scott Howard at Fork Restaurant in San Anselmo, CA. Scott Howard's first restaurant, Fork was incredibly well received by the public and critics alike. Bob worked side-by-side with Scott in a humble 125 sq. ft. kitchen and together they developed strong relationships with farmers and guests alike. As the kitchen was semi-open, it became an interactive area in which people commented on the food and asked for recipes and inside tips. Both chefs were eager to forward their knowledge, and the restaurant became a spot for impromptu cooking lessons in which the two chefs shared techniques with their guests, building loyal clientele and friends. In 2005, Bob became the Executive Chef.
After his time at Fork, Bob moved to Berkeley to once again work with Scott, this time in the kitchen at FIVE, the Modern American Bistro in the Hotel Shattuck Plaza where Scott continues to consult on a daily basis.
Bob feels that the time spent working with Scott at Fork was the true inspiration for launching Brick & Bottle. With the restaurant's open kitchen, Bob is excited to one day feature cooking lessons and for the restaurant to become a place for learning and growth for guests and employees. The kitchen has been designed in such a way to provide something for everyone, housing a rotisserie, grill, la plancha, smoker, and wood-fired oven. Passionate about his craft, he recently became certified by Verace Pizza Napoletana USA in mastering the traditional style of pizza found in Naples, Italy. Bob's vision for Brick & Bottle is that it will be recognized for its unyielding commitment to superior quality food and service in a warm and friendly atmosphere. He believes that Brick and Bottle will build community support by reaching out to local charities and supporting local farmers and regional purveyors.