Recipes
Toasted Peppercorn and Irish Whiskey Gravy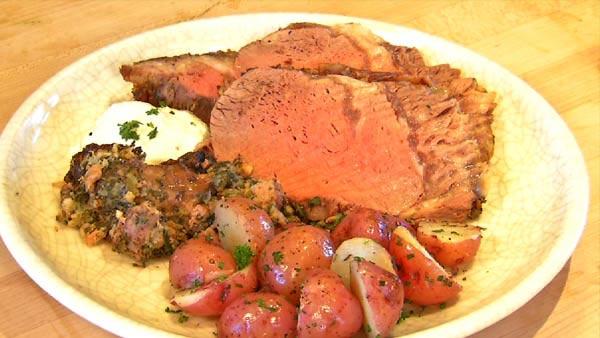 Servings: 8
Difficulty: Easy
Time:
Provided by: Bruce Aidells
3 teaspoons cracked peppercorns
1 tablespoon olive oil
1/2 cup finely chopped shallots
2 teaspoons garlic
1 cup Irish whiskey, divided
3 cup red wine
5 cups reduced sodium chicken broth, divided
2 tablespoons Dijon mustard
1 cup heavy cream
2 teaspoons or more chopped fresh rosemary
Directions
Scatter cracked peppercorns into a small heavy skillet and toast over medium heat until peppercorns become fragrant and vapors arise from the pan, about 3-5 minutes. Drop into a small bowl and set aside.
Pour oil into a 4-quart saucepan and heat over medium heat. Add shallots and stir and fry until soft, about 2-3 minutes. Add garlic and cook a minute more. Pour in 1/2 cup whiskey and burn off the alcohol. Add red wine and bring to a boil. Reduce liquid to about 1 cup. Add 4 cups of broth and boil down to a volume of about 3 cups. Whisk together the mustard and cream and add to the pot. Continue to boil until the sauce just coats a spoon. Cover and set aside.
When the roast is done, transfer it to a cutting board and cover loosely with foil (see above). While the roast is resting, finish the sauce. Remove roasting rack from roasting pan and pour off all the fat leaving the juices in the pan. Place pan over medium heat and add the remaining whiskey and broth. Using a metal or plastic flat spatula scrape up any brown bits from the bottom of the roasting pan and bring liquid to a boil. Strain the pan liquids back into the peppercorn sauce pan and continue to cook until the sauce develops a rich meaty flavor and is just turning syrupy. Add 2 teaspoons reserved toasted peppercorns and 2 teaspoons rosemary to taste. Add more peppercorns or rosemary to suit your taste. Serve sauce at once. Let guests help themselves but a little of this intensely flavored sauce goes a long way.