Recipes
Sweet Sesame-Coated Pork Tenderloin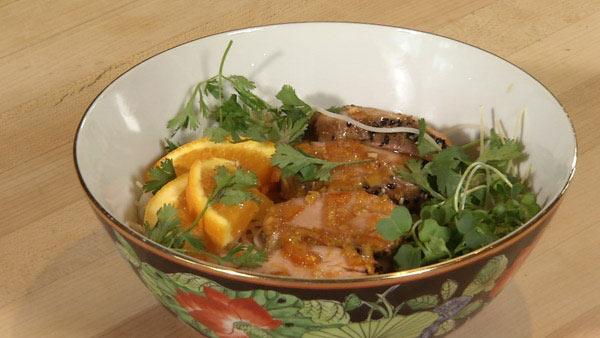 Servings: 4 to 6
Difficulty: Easy
Time:
Provided by: Bruce Aidells
2 large pork tenderloins, about 1 to 1 1/4 pounds each
1/2 cup mirin
1/2 cup soy sauce
1 1/2 tablespoons minced fresh ginger
2 teaspoons minced garlic
2 teaspoons grated orange zest
2/3 cup freshly squeezed orange juice
2 teaspoons Asian sesame oil
3 tablespoons black sesame seeds
1/4 cup white sesame seeds
1/4 cup honey
1/4 cup reserved orange marinade
1/4 cup freshly squeezed lemon juice
3 tablespoons orange marmalade
1 teaspoon grated lemon zest
1 teaspoon soy sauce
1 tablespoon Asian sesame oil
1 teaspoon cornstarch dissolved in 1 tablespoon cold water
Any sesame seeds leftover from coating
Orange wedges for garnish
Directions
Put the tenderloins in a large zipper-lock bag. In a small bowl, combine the marinade ingredients -- mirin, soy sauce, ginger, garlic, orange zest, orange juice, sesame oil -- and then pour over the pork. Seal the bag and set aside at room temperature for 2 hours, (or overnight in the refrigerator) turning the bag from time to time to redistribute the marinade.
Preheat the oven to 450 degrees.
In a small skillet toast the black and white sesame seeds over medium heat, stirring occasionally, for 3 minutes or until fragrant. Remove to a shallow bowl or plate. Put the honey in another shallow bowl or plate.
Remove the pork from the orange marinade, reserving 1/4 cup for the sauce and pat dry. Roll the tenderloins in the honey until completely coated and then in the sesame seeds, again so that they're well coated. (Set aside any remaining sesame seeds to add to the sauce.) Place the tenderloins on a rack in a roasting pan. Put the pan into the oven and roast for 15 minutes. Begin checking the internal temperature with an instant-read thermometer, checking every 5 minutes until the pork registers 140 degrees to 145 degrees. When done, remove the pork from the rack to a warm platter and set aside to rest, covered loosely with foil, for 10 minutes.
While the meat is resting make the sesame orange sauce. In a small saucepan, combine the reserved marinade, lemon juice, marmalade, lemon zest, soy sauce, and sesame oil. Bring to a boil and stir in the cornstarch mixture and leftover sesame seeds. Continue to boil until thickened, about 15 to 30 seconds.
To serve, cut the tenderloins into 1/2-inch thick slices. Pour over the sauce and garnish with the orange wedges.
Chef's Notes: You can also serve the hot pork on a bed of finely shredded iceberg lettuce or daikon radish threads. Leftover pork can be served cold over lettuce or daikon radish as a salad dressed with the sesame orange sauce whisked with a little bit of peanut oil.