Recipes
Sweet Corn, Cherry Tomatoes and Scallions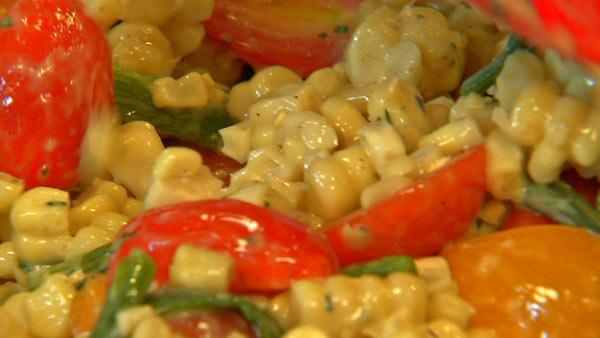 Servings: 6 to 8
Difficulty: Easy
Time:
Provided by: Bruce Aidells
12 green onions, trimmed, leaving the white part and 2-3 inches of the green part
Olive oil
Salt
Pepper
4 cups shucked corn kernels
2 cups cherry tomatoes de-stemmed and cut in half
1 tablespoon chopped fresh tarragon or 1 teaspoon dried
1 tablespoon Dijon mustard
1 teaspoon sugar
2 tablespoons white wine vinegar, lemon juice or verjuis
1/2 cup olive oil
1/4 cup sour cream or cr�me fraiche
Directions
Preheat oven to 450 degrees. Brush green onions generously with olive oil and sprinkle them with salt and pepper. Spread onions on a roasting pan or cookie sheet and roast for 10 minutes or until they become soft and start to color a bit. Remove from oven and set aside to cool.
Meanwhile bring 2-3 quarts of lightly salted water to a boil. Stir in the corn and cook for 5 minutes. Drain and set aside.
Dressing: To make the dressing add tarragon, mustard and vinegar or lemon to a small food processor bowl. Gradually add oil to form a smooth dressing. Pour dressing into a bowl and whisk in the sour cream.
To assemble the salad, cut onions into 2-inch pieces. Add them along with the corn and tomatoes to a serving bowl. Toss with the dressing until well mixed and serve right away warm or at room temperature.