Recipes
Stacked Caesar Salad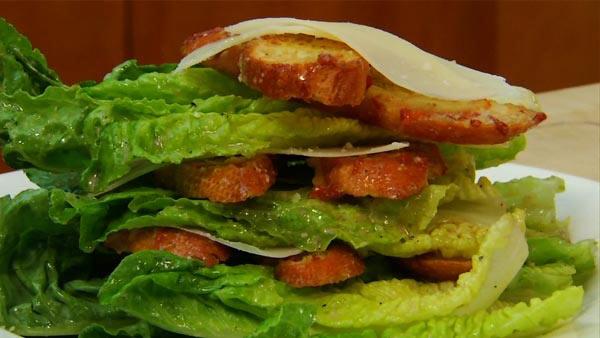 Servings: 4-6 as a main course
Time:
Provided by: Sunset Magazine
1 sourdough baguette (about 2-in wide
1/2 to 3/4 lb)
About 3/4 cup extra-virgin olive oil, divided
1 1/3 cups finely shredded parmesan cheese (about 1/4 lb.), divided
1/3 cup fresh lemon juice
9 canned anchovy fillets, drained
4 tsp. minced garlic
3/4 tsp. freshly ground black pepper
1/2 tsp. salt, plus more to taste
4 quarts tender inner romaine lettuce leaves (max 8 in. long, 1 1/3 lbs. total)
1 cup parmesan cheese curls (3 oz. total)
Directions
1. Preheat oven to 325 degrees. Make parmesan rafts: Cut baguette into diagonal slices 1/4 in. thick. Lightly brush both sides of each slice with oil, using 3-4 tbsp. total. Arrange in a single layer in two shallow 12- by 17-inch baking pans. Bake 5 minutes. Sprinkle slices evenly with 1 cup shredded parmesan. Bake until cheese is melted and bread is golden, 10-12 minutes.
2. In a blender, blend remaining 9 tbsp oil, remaining 1/3 cup shredded parmesan, the lemon juice, anchovies, garlic, pepper, and salt until smooth.
3. Put lettuce in a large bowl and parmesan rafts in another. Drizzle two-thirds of dressing over lettuce and remainder over rafts. Mix rafts to coat with dressing; with your hands or two spoons, gently lift and mix lettuce to coat.
4. Divide a third of lettuce among dinner plates. Arrange a third of parmesan rafts loosely on top, and add a third of parmesan curls. Repeat with remaining lettuce, rafts, and curls to add two more layers. Season salads to taste with salt.
Quick Tip: To make the curls, pull a vegetable peeler across the wide side of a block of parmesan (it's easier if the cheese is at room temperature.)
Guest: Elaine Johnson, Associate food editor, Sunset Magazine
For over 20 years, Elaine Johnson has worked as a staff and freelance food writer, editor, and consultant. At Sunset, Elaine has worked on articles featuring Portland food carts, the return of home canning, cooking from the garden, Passover, grilling, healthy cooking, and many pieces about food in the Northwest. She is also involved in favorite magazine sections like Fast & Fresh, Healthy Living, and Dinner with Friends, as well as occasional special newsstand publications such as Sunset Fast & Fresh: Great meals in minutes.
Before beginning her current position, Elaine was on staff at Sunset for many years as a senior food writer. She delved into the renaissance of artisan foods (bread, cheese, heirloom beans), seasonal entertaining, creative weeknight cooking, baking (pies, bread, cookies), the scientific side of food (canning, pickling, sourdough), and western foods (Central American, historic western salads, regional Thanksgiving). She also spearheaded and wrote a monthly low-fat cooking column. Some of her favorite pieces involved getting to know readers through major cook-offs at Sunset for grilling and western foods. Elaine edited Sunset's Fresh Ways with Chicken cookbook and contributed to Food Processor.
For more information visit www.sunset.com.