Recipes
Seared Ahi Tuna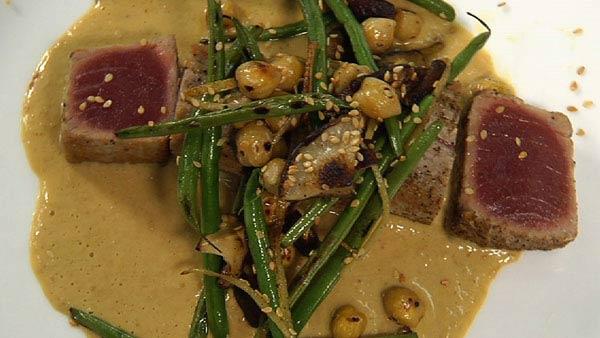 Servings: 4
Difficulty: Easy
Time:
Provided by: Chef Jeff Armstrong
Sesame seeds, toasted deep golden
Dijon
Japanese rice vinegar
Fresh lime juice
Soy
Green thai chili
Grape seed oil
Olive oil
Mustard oil
Roasted sesame oil
4 ea 6 oz potions Sushi grade Tuna
2 cup Haricot Verts (blanched)
1 cup Chickpeas (canned are OK)
1 cup Shiitake mushrooms (quartered)
To taste Toasted sesame seeds
Grape seed oil
Kosher Salt, Black pepper
Directions
Combine olive oil, grape seed oil, mustard oil, and roasted sesame oil and reserve. While sesame seeds are still hot put in blender with dijon, rice vinegar, lime juice, and soy sauce. Puree until almost smooth, then stream in the oils. Season with salt.
Season tuna and sear rare in a smoking hot pan. Toss vegetables in a little bit of grape seed oil and char in a very hot dry pan, season. Slice tuna and arrange on a pool of the sesame vinaigrette, top with the charred vegetables and garnish with sesame seeds
Executive Chef Jeff Armstrong of Splashes restaurant at the Surf and Sand Resort in Laguna Beach.