Recipes
Roasted Apple Gravy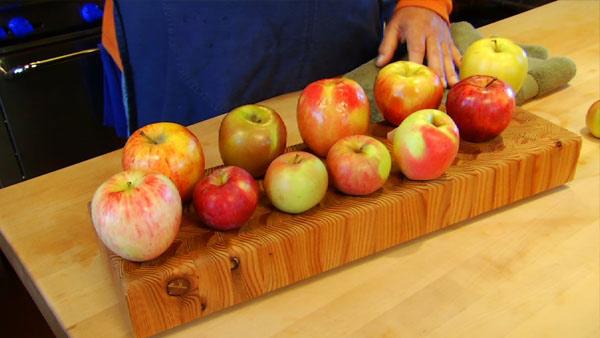 Servings: 5-6 cups
Difficulty: Easy
Time:
Provided by: Bruce Aidells
2 cups pan juices from roast chicken or turkey Low sodium chicken stock
4 Granny Smith, Pippin, Fuji or Golden Delicious apples, peeled, halved, cored and cut into 1/2 inch thick slices
3 tbsp. melted butter
1/4 tsp. cinnamon
2 tsp. fresh sage or 1 tsp. dried
1 tsp. fresh thyme or 1 tsp. dried
&frac12
cup apple brandy, Calvados or brandy
3/4 cup dry white wine or vermouth
2 cups apple cider or apple juice
1/2 cup heavy cream (optional)
2 tsp. cornstarch dissolved in 1/4 cup water Salt and freshly ground black pepper, to taste
Directions
1. Preheat oven to 350 degrees Fahrenheit.
2. Once chicken has roasted, transfer to a carving board. Pour the pan juices into a 2 cup Pyrex measuring cup. If you don't have 2 cups of juices, then add low sodium chicken stock. If you have more than 2 cups juices, then save the extra for soup or sauces. Freeze until fat congeals. Remove fat with a spoon. Set the juices aside.
3. Toss apples in a mixing bowl with melted butter, cinnamon, sage and thyme until well coated. Spread the apple mixture over the surface of a large baking sheet and roast in the oven until the apples are soft and lightly colored, about 10 minutes. Turn every so often with a spatula. Remove ¾ cup of apples and puree in a blender or food processor. Set aside along with the remaining sliced and roasted apples.
4. Add brandy and wine to a 2 quart sauce pan and boil until reduced by half. Add the reserved pan juices, cider, pureed apples and optional cream. Boil for 5 minutes to concentrate the flavors. If it is too watery, continue to boil until the flavors are concentrated. Stir the cornstarch and water together in a small bowl and add to the gravy. Cook 30 seconds or less to thicken. Season to taste with salt and pepper.