Recipes
Pork Stew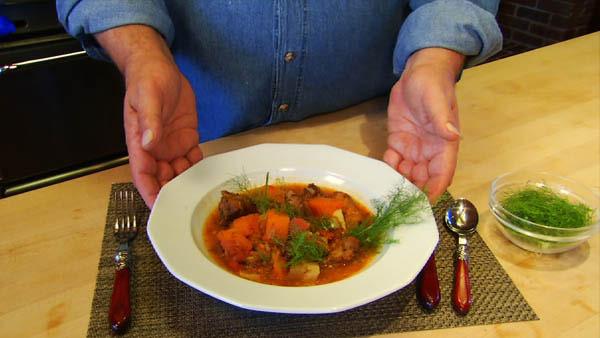 2 tsp. salt
1 tsp. black pepper
1/2 tsp. cayenne
1/4 tsp. ground ginger
1 tsp. rubbed sage
1/4 tsp ground nutmeg
1 tsp. fennel pollen or ground fennel
3 lb. pork shoulder butt, trimmed of external fat and cut into 3-inch chunks
1/4 lb. pancetta, diced
2 cups chopped onions
2 tbsp. chopped garlic
2 cups home-made pork stock
1 cup red wine
3 cups butternut squash, peeled and cut into 1 1/2 inch cubes
2 large fennel bulbs, leafy part trimmed and chopped, remaining bulb cut into 1- inch chunks
Salt and freshly ground black pepper
Directions
1. Preheat Oven to 350 degrees Fahrenheit
2. Flavor Step: Combine salt and spices in a small bowl and rub all over the pork chunks.
3. Heat a large Dutch oven over medium heat and fry pancetta until it is browned and fat is rendered. Remove pancetta and set aside and leave about 3 tablespoons of fat in the pot. Increase heat to medium-high and add pork chunks. Brown them on all sides, about 7 to 10 minutes. Remove pork and set aside.
4. Add onions and garlic. Cook and stir until soft, about 5 minutes. Add stock, wine and tomatoes. Bring to a boil while scraping any browned bits from the bottom of the pan. Add back pancetta and pork. Cover the pot and bake for one hour in the oven. Add fennel leaves and bulb squash and bake with the lid on for 30 minutes more or until the meat and vegetables are quite tender. Place pot on top of the stove. Remove meat and vegetables with a slotted spoon to a warm platter or serving bowl. Degrease the surface and if the sauce is watery, reduce it at a boil until it begins to thicken and become syrupy. Taste for salt and pepper. Add back the pork and vegetables and serve at once.
Cook's Notes: Try this stew with pork from heirloom breeds such as Berkshire, Tamworth or Duroc. The deeper more intense porky flavor of meat from these breeds produces a stew with more flavor and character. Using home-made pork stock will also provide a deep rich flavor.
Alternative Cuts: Boneless country spare ribs, pork blade steaks, pork shoulder steaks, pork cheeks, pork neck bones, pork shanks cut into 2-inch thick rounds (bones, cheeks and shanks will require longer cooking time).
Leftovers:
Serve any leftover stew over large shaped pasta such as farfalle, rotini or rigatoni and make to provide lots of Parmigiano Reggiano to sprinkle over the top.
If you have lots of stew leftover then you can make a delicious pie by covering the stew with your favorite cornbread recipe. You can also make a great topping with biscuits.