Recipes
Plantain Bonbons filled with Tilapia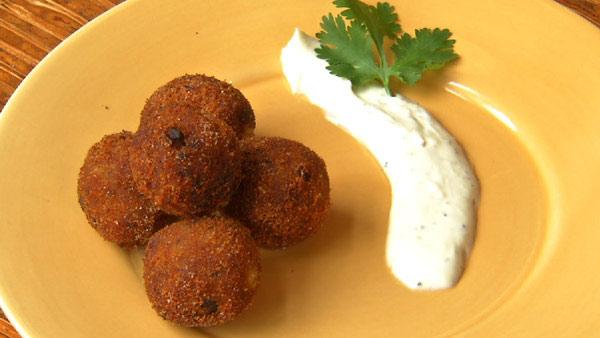 Servings: 4
Difficulty: Easy
Time:
Provided by: Adriana Lopez Vermut
1 lb. tilapia filets, de-boned
1 oz. garlic paste
2 oz. red onions, finely diced
2 oz. red bell pepper, finely diced
2 oz. olives, finely diced
1 oz. capers, finely diced
1 tbsp. finely chopped cilantro
1 tbsp. shrimp or fish concentrate
1 tbsp. salt
10 drops lime juice
5 lbs medium ripe plantains (yellow)
1 cup white corn meal (Harina P.A.N or Maseca)
4 cups vegetable oil
Directions
Boil the tilapia filets for 15 minutes; drain and cool. Once cool, shred the tilapia and set aside.
Add 2 Tbsp. vegetable oil to a saute pan; heat the garlic paste.
Saute the vegetables until soft, in the following order: begin with the onions, then add red bell peppers, then olives and capers.
Add the fish or shrimp paste and let the mixture cook for about 3 minutes. Add the cilantro, salt and lime and mix well.
Place plantains, in their peel, in a pot of water; boil for 30 minutes, then drain and let cool.
Once cool, peel the plantains. Cut in half and remove the veins and seeds inside the plantain.
Using a food processor, puree the plantains.
Add the prepared tilapia and mix well; then form small balls of about ½ oz. each
Using white corn meal, lightly bread the bonbons and set aside.
In a deep fryer, bring the 4 cups of oil to a high temperature. To test the oil's readiness, drop in a pinch of dough; if it starts bubbling, the oil is sufficiently heated.
Fry the bonbons in the oil until they are golden (note that the tilapia and the plantains are already cooked; the deep frying is to bring color and crispiness to the bonbon).
Serve immediately, either alone or with a dipping sauce, such as a mild hot sauce.
For more info on plantains, check out Adriana's blog at www.adrianalopezblog.com.